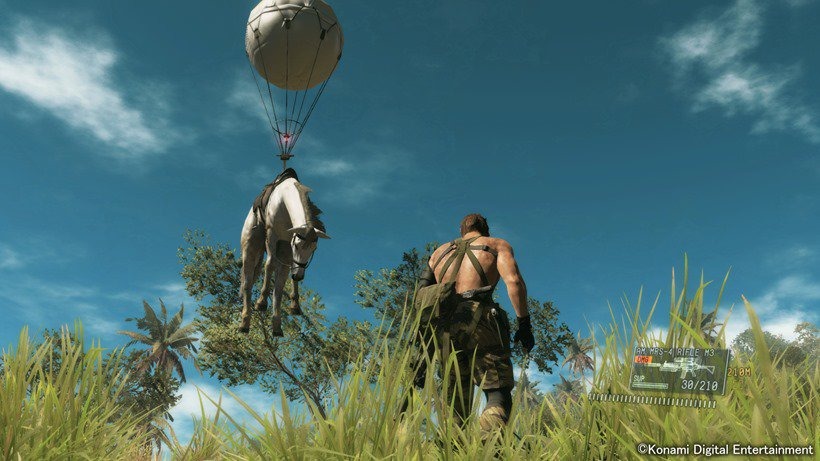 Have you played Metal Gear Solid V yet? The game is phenomenal! Seriously, just look at that header image. Who can say no to airlifting a faithful horse (or anything that isn't firmly bolted down for that matter) via the revolutionary Fulton system? Nobody! MGSV is amazing, allowing you to do that and many other awesome things. If  you wont take my word for it, then let me give you some perspective quick; Geoff likes it… HE REALLY LIKES IT! Have you met Geoff before? He never likes anything, ever. So put that in your electronic cigar and smoke it, and watch those twelve hours fly by in a matter of seconds. Have no idea what I'm going on about? Of course not because you haven't played The Phantom Pain yet!
Sorry, it is rather rude of me to judge so hastily. Maybe you've been avoiding the game because you're not up to date with the crazy lore. Well friend, you can no longer use that excuse. Here's a recap of all you need to know story wise before playing MGSV, all in a single minute (via Game Informer). Oh and obvious advice, if you don't want anything spoiled from Metal Gear Solid 3 and Peacewalker, just don't watch the following clip…
Poor Snake/Big Boss! He had to deal with the original Boss in MGS3, and later, some rather impressive AI of her in Peacewalker. Also, how does any of this make any sense – proper, lifelike AI in the seventies? HOW?
I don't know, I suppose I should also be asking how the iDroid in The Phantom Pain is more advanced than my iPhone. What is the answer Kojima? How is this all possible? TELL US EVERYTHING!
Ok my rant is done. Go play MGSV already dammit. Don't talk to me until you have! With or without knowledge of the overall story though, it's a ton of fun!
Last Updated: September 10, 2015