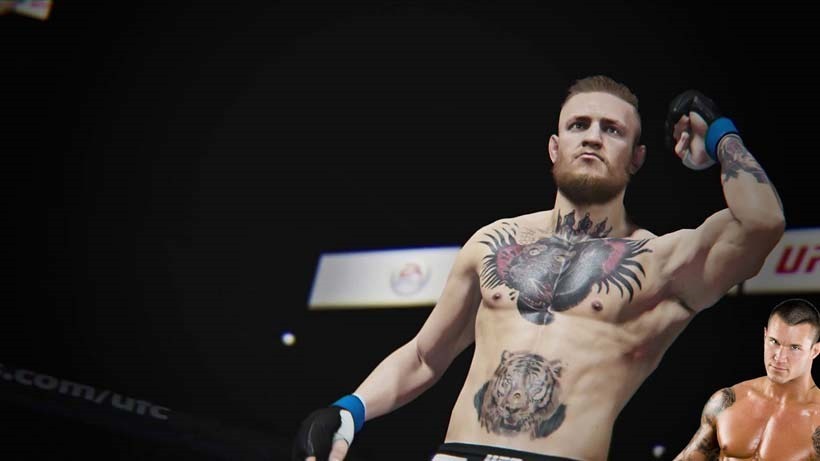 EA Sports UFC 2 wants you to do more than just hit your opponent harder than they can hit you…hey. Martial arts has evolved over the centuries, going from primitive "hit with stick" techniques to exotic nonsense that ridiculous TV shows try to convince you made for the "deadliest warrior". At its current apex, mixed martial arts seems to be the fistacular method of dealing damage that is in favour these days.
Of course, I prefer to not have my face reduced to something that resembles a raw hamburger patty, which is why I'm perfectly happy to talk smack in an online bout of fisticuffs when I'm leagues away from being physically harmed. So I might be a tad bit more insufferable than usual, when I pursue my lifelong dream of writing smack for upcoming MMA fighters whose interviews are about as exciting as watching furniture being appraised.
When it comes to dropping concussions on players, EA Sports UFC 2 will be going down the sim route with a series of physics that looks less like two action figures attempting to create the beast with two backs and more like two mountains of muscle attempting to clobber one another into a blackout state. Here's the latest gameplay trailer, and some hyperbole-heavy features copied and pasted below from the press release:
Knockout Physics System – A revolutionary new physics-driven hit reaction and knockout system delivers more visceral, more rewarding, and more authentic KOs than ever before.
Next-Level Submissions – Surprise your opponent with a flying armbar from the clinch, or with a quick transition from a knee bar to a heel hook. The addition of standing submissions and submission chaining (sequences) takes UFC 2's grappling game to the next level.
Dynamic Grappling – For the first time in any MMA game, experience the freedom of independent fighter control in every grappling situation. Simultaneous two-fighter interaction brings the ground game to life with greater responsiveness and variety.
Ultimate Defense – You can't hurt what you can't hit. Greater control over your fighter's head movement lets you to slip and dodge incoming strikes with amazing fluidity. Add an improved blocking and parrying system to the mix and you have new tools to fend off your opponent's most devastating attacks.
EA Sports UFC 2 will be out March 15, a date where CM Punk will still retain his legendary streak of 0-0. Presumably, I'll attack a guy so hard that I'll make orphans out of his children. If he has a wife, I'd imagine that she'll die from pure grief shortly after the bout ends.
Last Updated: January 13, 2016