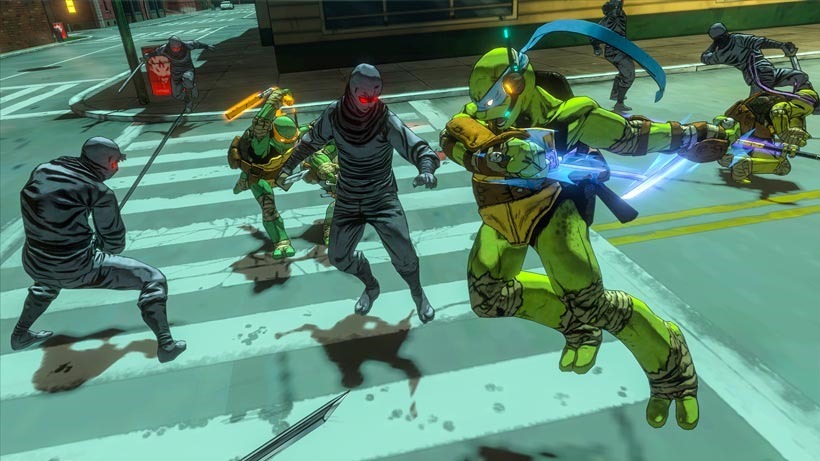 It's a good time to be a fan of mutants, sewers, pizza and surfing lingo from the late 1980s. It's also an apt description of a Port Elizabeth weekend, but this time I'm not trying to promote tourism in my local Hellmouth hometown. Instead, I'm just amped for 2016 to be the year of the turtle, no matter what my grouchy local Chinese community insists on. Year of the monkey my hairy ass.
Not only is the current incarnation of the Teenage Mutant Ninja Turtles completely rocking it on TV, but there's a sequel on the way. A sequel to one of the most wonderfully idiotic films of 2014, that looks like it's taking the source material and running wild with it. We've got Bebop and Rocksteady stepping up to the plate, a new Shredder, Krang, Dimension X and the Green Arrow ditching his trademark quiver for a hockey stick and a battle-cry of "GOONGALAH!". I hope.
And of course, a new TMNT game that happens to be on the way from Platinum. I'm already strapping cheese graters to my arms and demanding that my postman refer to me as the true Shredder. Four ninja turtles, four unique personalities. The big draw here is that Teenage Mutant Ninja Turtles: Mutants in Manhattan has a four-player co-op system set up.
It's a neat idea, and one that we've seen before in previous Ninja Turtle games. I'm talking specifically about the 1989 arcade game, which somehow survived 20 years to make it to my own local arcade. Good times man, good times. Four-player co-op sounds fun. But I'm also wanting something more out of the experience. And it sounds like Teenage Mutant Ninja Turtles: Mutants in Manhattan will have just that, by slapping some skills onto each Ninja Turtle. Here's Leonardo in action:
If you can't see the video above, then here's the scoop: It looks like Leonardo will be making use of Platinum's trademark slow-motion action to dish out some quick damage. It's a system that they perfected in the Bayonetta games, and liberally applied to the Autobots in Transformers: Devastation. And it's more than welcome here when you're busy being swarmed by the Foot Clan. Now to see what Donnie, Raph and Mikey can do.
Last Updated: February 15, 2016