You ever hear of Rainbow Six: Siege? It's apparently a damn good game, according to Geoff. Tight, focused and fantastic with the right crowd of strangers or friends. Sort of like a swingers party then, yeah baby. Point is, nobody is playing it and that's a shame. Good games deserve love and attention and while Rainbow Six: Siege does have a tight-knit community of operators who delve into its impressive depth on a regular basis, it's not enough.
What's a publisher to do? Re-examine the game and activate a new set of protocols to give it new layers of refinement and tweaks. That's the plan with Operation Health, which will see Ubisoft double down on improving Rainbow Six: Siege with continuous fixes for the long run. "Operation Health is a hard push toward tech improvements and bug fixes, and it introduces a new three-stage deployment process for updates, with new features first rolling out on a Technical Test Server, then on PC, then on consoles," Ubisoft detailed on their blog.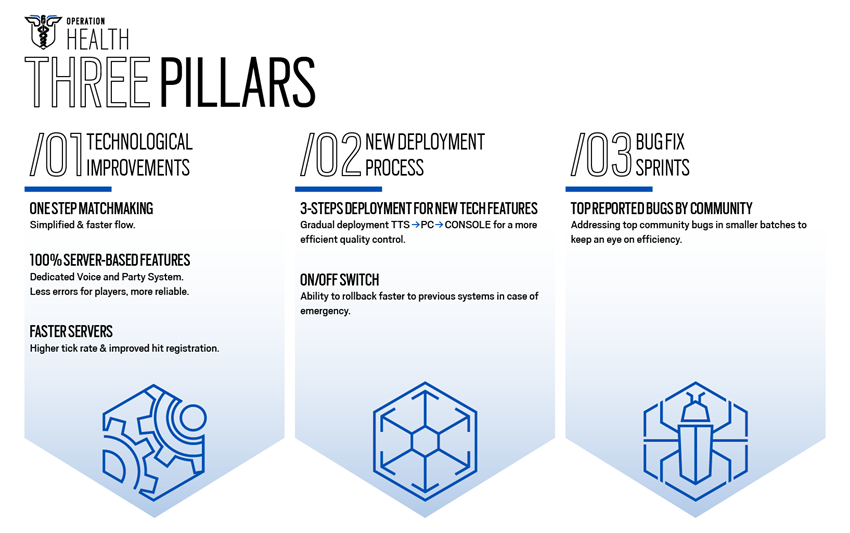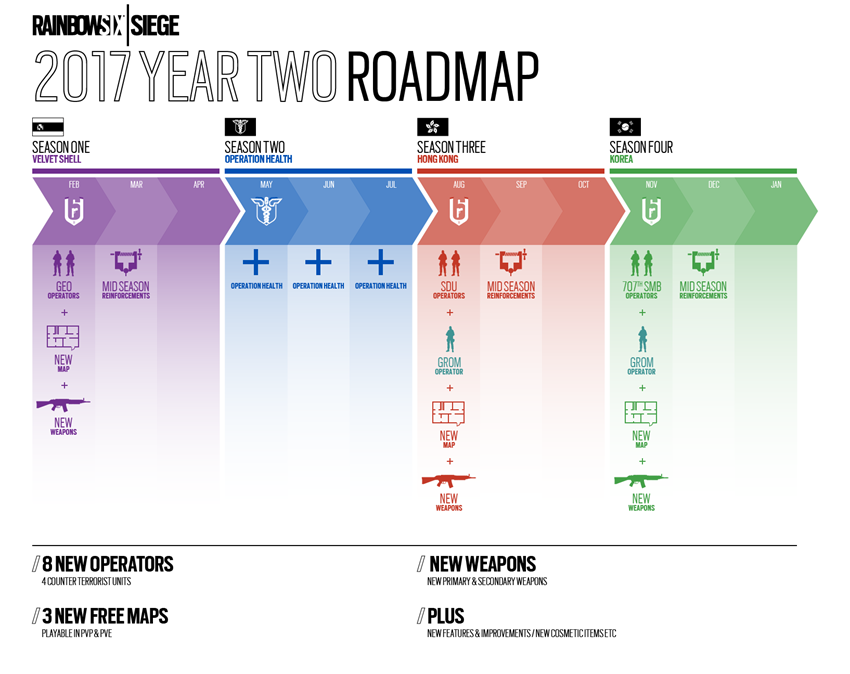 Operation Health is also about keeping the community informed on what's coming
Because of this new focus, the planned Hong Kong season will be pushed back to Season Three in August, while November's Season Four will feature South Korea. Poland will no longer have its own season in Year Two, but its GROM Operators will be available at the start of seasons three and four. The number of new maps has also been reduced to three, and includes the most recent map set in Spain.

Operation Health is also about keeping the community informed on what's coming when, with frequent reports detailing upcoming features and improvements, and you'll also be able to help the developers test the quality of these changes by previewing them on the Technical Test Server. To learn more about Operation Health, check out the official site and be sure to tune into the Rainbow Six Pro League finals on May 21, when there'll be a full panel discussion on what's planned for the new season.

While we have been working diligently on improving the health of the game, we were not satisfied with the pace at which we were able to deliver major improvements and fixes. So we are dedicating an entire season to both eliminating the highest priority issues and restructuring for a more sustainable update pipeline.
TLDR: Three new maps for the year, Ubisoft wants to keep its community better informed and all of those upcoming cha-cha-changes will now have some thorough testing done on a technical server. Less content for now, more focus. Which should make the game better for everyone in the long run. Should.
Last Updated: May 12, 2017