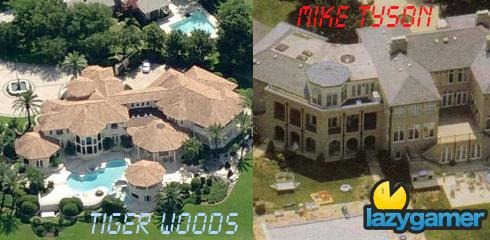 When we think of celebrity sportsman being embarrassed by games that share their likeness it is hard to go past Tony Hawk Ride but there are others that get let down by their virtual selves and sometimes it happens on Live TV.
Below we have a video clip of Mike Tyson, the baddest man on earth, partaking in that manliest of soap operas the WWE. However while he is trying to be tough and scary he is getting his ass handed to him in the video in the background which is demonstrating Fight Night Round 4.
It's worth a quick look just to see Mike Tyson acting to be honest and as an added extra I have also embedded Mikey chatting to WWE's fake leprechaun… seriously who actually watches this stuff?
And the leprechaun
And as a third extra we have a new parody around Tiger Woods' new line of videogames.
On a side note, I hate people who cheat on their spouses and there really is no excuse but it's hard to not be proud of a guy who is a billionaire, married to a Swedish bombshell, plays a game for a living and still manages a round of 18 holes after hours.
Mind you he is no longer a billionaire, his Swedish bombshell is now doing the pool boy, he doesn't play golf anymore and has to hide from the public lest his Mom catches him and whips him good.
Source: Kotaku
PS: The header image is of their respective houses just in case anyone actually felt a little sorry for these guys and their self induced implosions.
Last Updated: January 13, 2010