In almost every announcement or feature of a South African tournament one thing always remains clear – you can win money playing competitive games. While some smaller tournaments which attract local talent aren't as major as international ones, there's still an opportunity to make money as a student whether it's in the thousands or hundreds. That's all about to change as a new startup by Level Up eSports is using the mobile application industry to bridge the gap.
If you've ever used Tinder, you'd know how easy it is to swipe left or right in the effort of finding love. Sometimes it's not love you are looking for, but regardless the application makes meeting new people extremely easy. Now, what if these two concepts were combined, and instead of looking for "love" you were instead looking for gamers to challenge  – and win money?
That is exactly what Level Up eSports plans to do with their latest initiative, following a similar concept:
Choose which game you to compete at
Application will find other people who play the same game
Swipe right or left to accept or decline the message
If you both swipe right you can challenge them. A chat menu pops up and you're underway.

Here's the concept for the profile. Not so great, for now.
Depending on the eSports title, you can now chat up and share details on servers, times, etc. Once the game is completed you head back into the application and agree on the winner, who will receive the money. There's also a great Honor Points system where you can give your opponent Honor to let other gamers know how honorable they are at accepting the terms of the challenge.
What happens if there is a dispute? Well, then the case is sent to the Level Up team for review where they will be joined by a number of users to review, check screenshots, and decide on the outcome of the case. There's no word on punishment, yet, but I assume it will be along the lines of losing Honor.
How do I make money?
It's a given that some form of virtual currency will be used for Level Up, however it's not bitcoin or PayPal. Level Up will use a new virtual currency known as XPER. XPER is still very new, which is why we've never heard of it, but it's said to growing in popularity. XPER will eventually allow you to transfer your winnings for other virtual currencies, as well as real money through a third party exchange or the Level Up eSports app itself.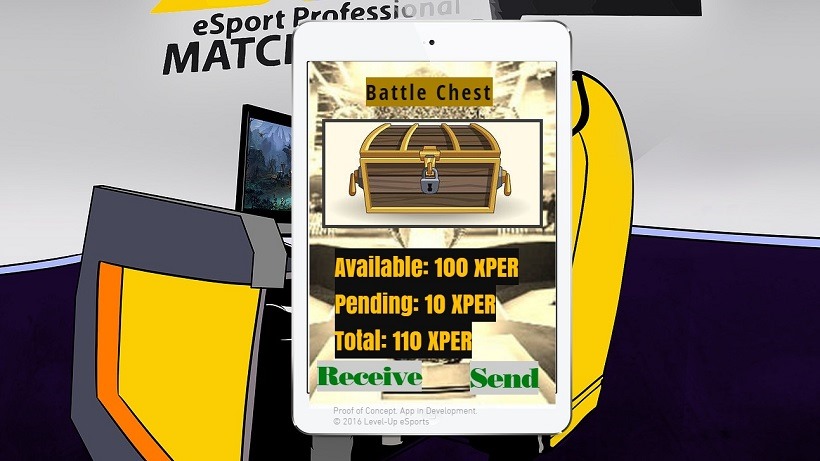 It seems XPER coins can be collected from Battle Chests, perhaps won? Bought?
 Closing thoughts
It's an interesting initiative to say the least, but the functionality and access to games is what concerns me the most. It seems the application will surround single player games, as team games would require a lot more swiping to make the best team. Perhaps you can create a team profile and allow your captain to swipe? Who knows.
It could be worth a shot once it comes out, and it does sound like some easy money.
Last Updated: August 19, 2016