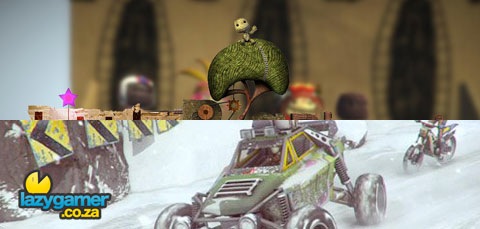 An announcement by Sony yesterday just goes to show that they are still pushing hard to keep the PSP in the running, as it has seen quite a bit of a slump lately and is being pretty hammered by the success of the Nintendo DS as well.
Sony announced yesterday that LittleBigPlanet will be heading to it's portable system and is set to feature the same creative features as it's big brother. It is being developed in conjunction with Media Molecule and is also going to feature new levels. While I really like what Media Molecule did with LBP, I really think that moving it over to a platform like the PSP is an awesome idea, the title also makes even better sense as well.
Also announced is a new Motorstorm, titled Arctic Edge is headed to the PSP and will also be released on PS2 later this year.
As the title suggests, this new titles will be leaving behind the usual locations of deserts and tropical areas and moving to whiter pastures.
The Motorstorm franchise has enjoyed great success on the Playstation 3 and I am personally looking forward to tearing up some slush on my PSP. It also goes to show how popular the PS2 still is, with Sony still releasing some big titles on it's last-gen console.
This really is a great line-up for the PSP and one that makes me really happy that I have decided to keep mine around.
Source: 1up: LBP and 1up: Motorstorm
Last Updated: February 25, 2009