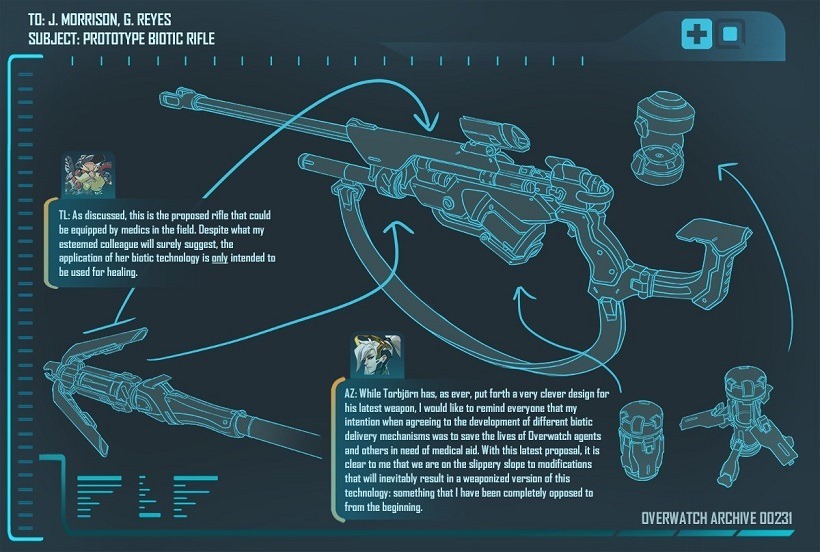 Yesterday, I told you all about a teaser Blizzard dropped that hints at the release of a brand new Overwatch character. Sure, it may just be a "confidential" image of a weapon, but it basically confirms what fans have suspected for months now – the new hero does indeed seem to be a support sniper.
What remains a complete mystery still however, is who this character is exactly. Look, I'm at least a million percent certain that it's Sombra, but I'd like to get the nod of confirmation from Blizzard at some stage just to be absolutely sure.
And it looks like that'll be happening really soon, if this listing on the San Diego Comic Con site it to be believed. There's a panel taking place at the event on the 21st of July that's titled "Behind the scenes of Overwatch's newest hero" (via VG247).
Blizzard developers James Waugh (director of story & creative development), Michael Chu (senior designer, Overwatch), and Arnold Tsang (assistant art director, Overwatch) present a behind-the-scenes look into the creative process of developing the art, design, and story for Overwatch's newest hero.
This info doesn't really tell us if the new character will be made playable anytime soon or not, but at the very least, it does indicate that we'll get a proper hero reveal on or before July 21st. That's not too far away at least!
As excited as I am to have a new face join the colourful roster of Overwatch, I must admit, I don't think the game really needs it, at least not just yet. I've not yet felt fatigue, and I'm still perfectly happy playing the existing 21 characters.
That being said, I would never say no to new blood. I look forward to playing Sombra (or whoever the hell gets revealed) in the near future!
Last Updated: July 8, 2016