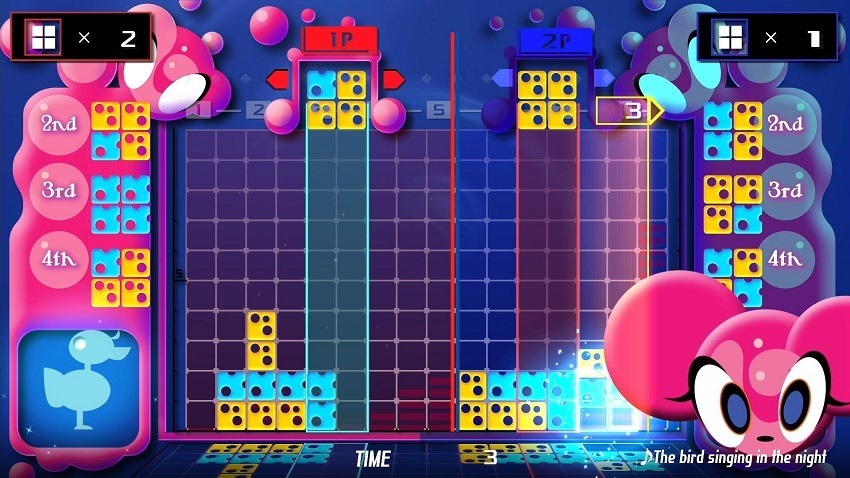 Shocking secret: I pretty much hate Tetris. Or perhaps more specifically, I hate playing Tetris. Not because I'm trying to throw shade on arguably one of the most well designed games ever created, or trying to discount its influence on the industry. But rather because I'm just incredibly bad at it, and never seem to be able to get better. It stands to question then why something like Lumines, which has its roots so intrinsically tied to Tetris, appeals to me far more. Or maybe not. Maybe it's just that sweet, sweet music.
Music (and puzzle craziness) that is now coming out a little later than previously expected. Lumines Remastered was originally given a May release date when the game debuted on the latest Nintendo Switch indies focused Direct, but it seems to have been a bit premature. In a quick update today, Lumines' developers adjusted that to June, 26th to be exact. And it's coming out on a range on consoles, not just the Nintendo Switch. That's Xbox One, PS4 and PC included.
There is a compelling argument to play it on Nintendo's hardware though. Lumines' pulsating soundtrack is getting a revamp to work with the HD Rumble in each of the console's Joy-Con controllers. That's hardware that has hardly been capitalised on with most titles (first-party included) so I'm itching to feel the music literally this time as I whack down some blocks to the beat of the drum. Versions on PS4, Xbox One and PC might have the game running at a fancy 4K, but they they send accurate vibrations down your arms as you witness it? I think not.
Lumines is a great, great distraction, with a most of modes for both single and multiplayer that will have you hooked for hours on end. Or in bite-sized pockets of free time. Either way, it's sure to be time very well spent.
Last Updated: May 2, 2018