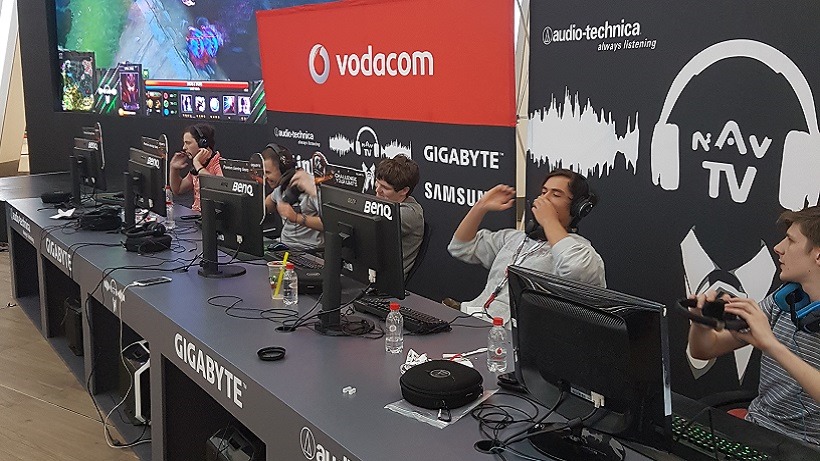 Many Saturday morning shoppers got a rude awakening when they walked in ready to do their morning shopping, but were instead slapped with some eSports upon entry. While some stopped and stared, others hung around and asked questions. In the end, people became more aware of competitive gaming as the Mall of The South became an eSports spectacle this past weekend.
The Vodacom Gamer's Fest brought Gamers to the South as they competed in Counter-Strike: Global Offensive, Dota 2 and FIFA for a prize pool of over R200 000. The LAN area was situated underground in a cornered off section of the parking lot with a VIP section and plenty screens for viewing pleasure. The CS:GO and FIFA competitions were completed in the LAN area while Dota 2 took the main stage upstairs as two teams were given their shot at impressing the foot traffic and patrons at Mugg & Bean.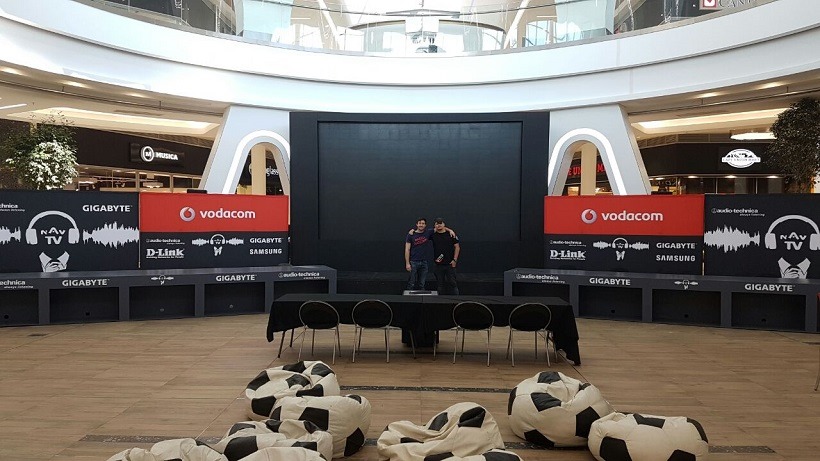 Completing set up the night before
While the tournament was powered by Vodacom it was production company NavTV who broadcast the games, manned the LAN area and made sure everything ran accordingly.
Results:
FIFA began on the Friday evening and concluded on Saturday. The tournament was won by MainGaming_shuaib, with his teammate, MainGaming_Abubakar taking second place. FIFA is a surprisingly large eSports in South Africa which doesn't garner as much attention as other titles. I can honestly say that beating your mates on the couch is nothing compared to what I saw these competitors doing this weekend.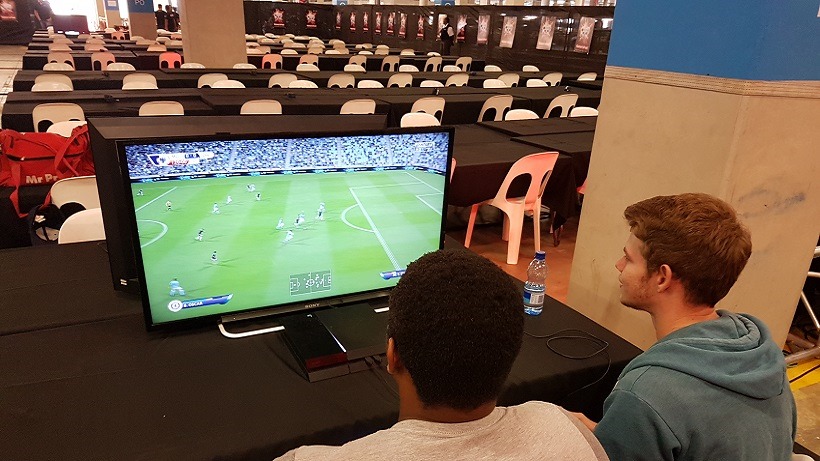 Dota 2, unfortunately, ran into a timing snag as games were extremely close between the top teams, which is never a good thing when you're trying to run a tournament on time. Bravado Gaming and Energy eSports pushed the schedule back by a few hours after a drawn out affair on Saturday. Many expected Bravado Gaming to be their unstoppable selves, but Energy had something to say about it.
The Dota 2 tournament got as far as the Loser Bracket final, where CarboN eSports upset the balance by beating White Rabbit Gaming (currently ranked 2nd) and earned their spot in the Grand Final against Bravado Gaming. The Grand Final will be completed online next weekend.
CS:GO was extremely tight as Gamer's Fest included the top 5 teams in the country. Aperture Gaming, Bravado Gaming, Damage Control, Energy eSports and CarboN eSports were all in attendance, but it was upset central as teams progressed through the bracket. Energy eSports first knocked Damage Control to the lower bracket. Next up came our first upset – CarboN eSports (after being decimated in their first map) beat Aperture Gaming, forcing them to face Damage Control in the lower bracket.
Bravado Gaming sent Energy eSports to the lower bracket as well. CarboN then faced Bravado Gaming in the winner bracket final where CarboN upset the balance and knocked Bravado to the lower bracket. Aperture, after beating Damage Control, went on to obliterate Energy eSports before meeting Bravado Gaming in the lower bracket final. Bravado defeated Aperture and  got a second shot at CarboN.
CarboN, with a one game advantage, won map one in Overtime before Bravado tied the series up 2-2. The final map was Cache, which CarboN won rather convincingly.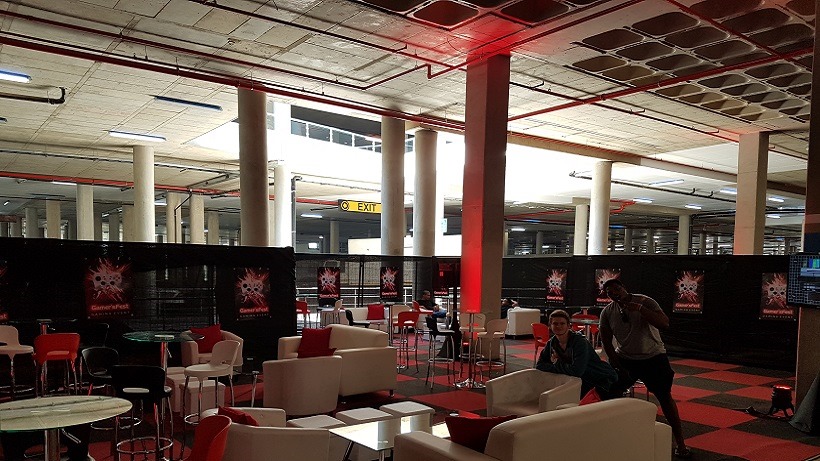 The VIP Area
In closing
Having a LAN competition in a Mall was quite great. There were facilities nearby, and Vodacom gave each of the gamers meal vouchers and free coffee in the VIP area. The interest grew as people asked us questions about eSports. The only issue with this LAN was the announcement being made just over one week before it started. This made a lot of people unhappy but it does require some further understanding. I will explain all that later this week.
Last Updated: April 4, 2016