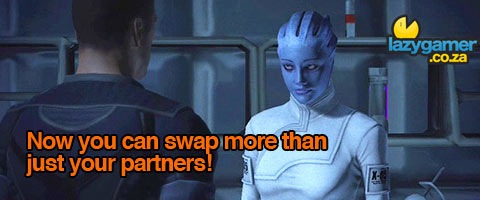 Mass Effect 2 releases this week and a lot of people are starting to get really excited to get their hands on it, I know I am.
Recently, our beloved Geoff put up a post about disc swapping and how it will work in Mass Effect 2 but we all know that with the introduction of the NXE, installs are possible as well. Not only will they speed up the loading by a couple seconds but also allows us to stay comfortable on the couch without swapping discs, or will it?
The major issue is that for people who want to install the game, the disk space damage is pretty rough and for some just plain impossible and now we have news that swapping discs will still be required, thanks to Microsoft.
According to a post on examiner.com the install for both discs will cost you a pretty 12.4 GB of hard drive space.
Being an owner of an original 20GB Xbox 360, which mind you, comes standard out the box with barely 14GB actually available for use, I couldn't install the game even if I wanted to. Thankfully, the installation is optional.
According to reports, the installation will set you back between 20 and 30 minutes. All of this to save a few seconds of load time. Kotaku has also updated a recent post saying that according to Bioware, the appropriate discs will still need to be in the drive due to it being a requirement from Microsoft.
This doesn't really surprise me, considering that it's always been the case but it would have been nice to just install the game and play through without swapping. Then again, what am I really saying here? You will need to swap the disc twice in a 35+ hour game, that doesn't really count now does it?
So a 20-30 minute install that takes up 12.4GB just to save on a couple of seconds of loading time.
Worth it?
Last Updated: January 26, 2010