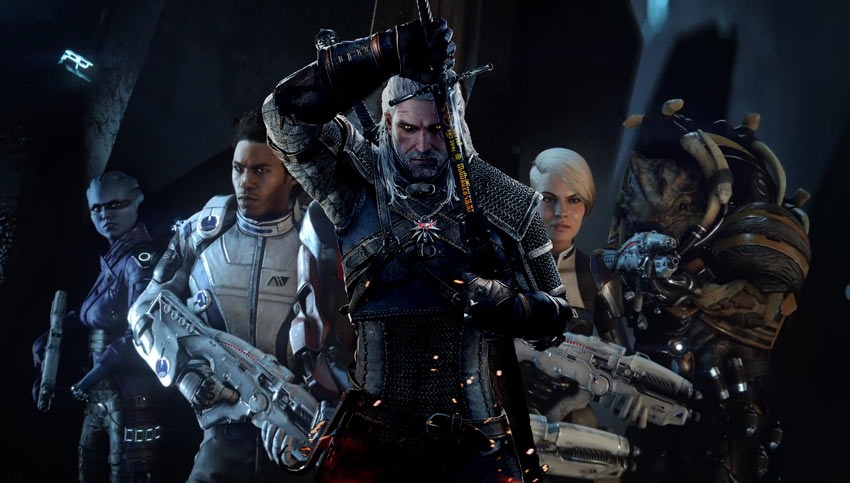 Good ol' side-quests! Useful fluff when you need to grab a few levels in the upward direction before you continue a storyline, but also usually consisting of a narrative that has you skipping walls of text so that you can fast forward to the part where you need to murder something so that you can get some of that sweet sweet XP.
Back in 2015 however, The Witcher III raised the benchmark for such activities, with quests that felt like actual extensions of its story, optional missions that contributed to its narrative and had consequences for players. No stranger to side-quests itself, the latest chapter of Bioware's space-adventure roleplaying game Mass Effect: Andromeda will also be looking to make such missions have actual value for players.
"We are approaching the completionist aspect very differently, because we've done and learned a lot from Inquisition," Producer Fabrice Condominas said to PC Gamer (via DualShockers).
But we've also observed what other games have been doing, like The Witcher. And it was very important for us that the quantity of scope doesn't downgrade the quality of whatever your are doing there.
Good plan. There's a reason why The Witcher III is so beloved, and having quests that layered more rewards on top of other activities was just one of those reasons. If there's one game that Bioware's Mass Effect should emulate somewhat, I can't think of any finer example than The Witcher. I'm particularly fond of the idea, that bigger isn't always better. Quality over quantity I say.
Mass Effect: Andromeda looks like it'll be shaking up some of the core ideas that defined the series and the trilogy that launched it into hyperspace. With some pretty good sex this time as well apparently. It'll be out soon in fact, on March 21 for PlayStation 4, Xbox One and PC.
Last Updated: February 13, 2017