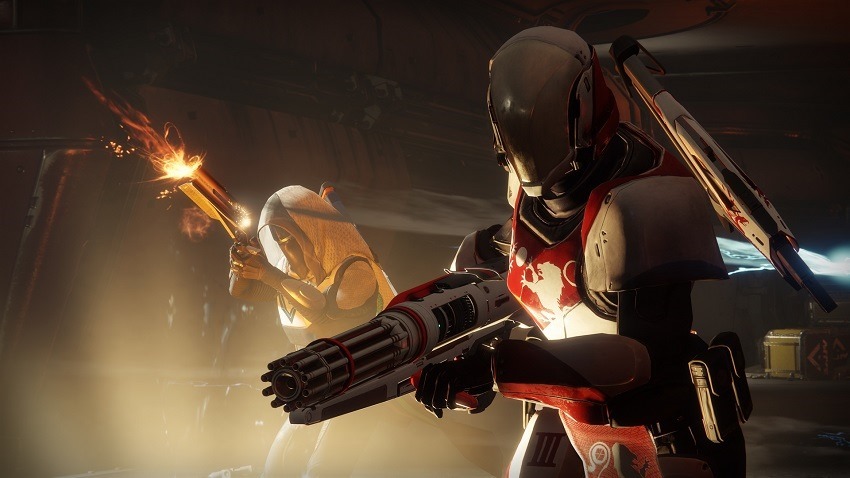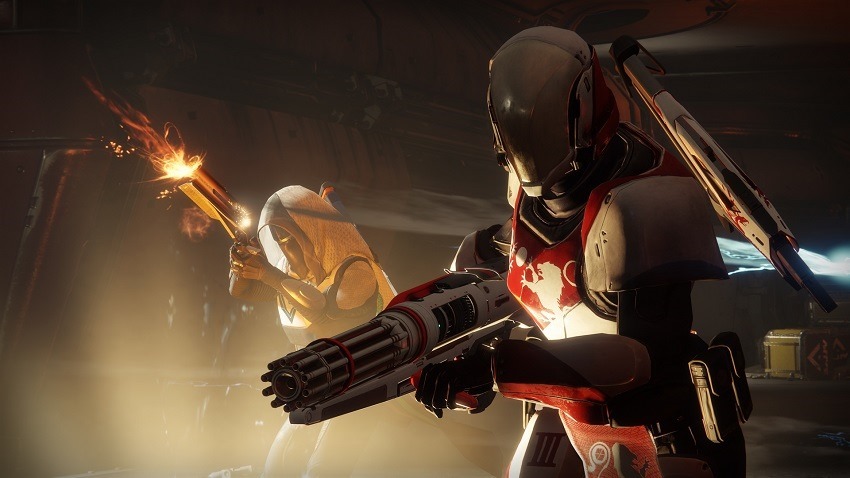 While there's a lot to love about Destiny 2, there's also plenty to dislike. The chief complaint amongst fans however? A lack of communication, as Bungie's plans for the sequel and its future weren't being shared beyond the launch month of Destiny 2. That growing discontent boiled over when fans discovered a hidden XP system that punished anyone looking to enjoy a familiar grind ala the Destiny 1 days.
On the Bungie Blog, directors Luke Smith and Chris Barrett finally addressed those concerns alongside input from the development team, promising a more open line of communication and a ton of new content that'll be added in the months to come. "We know it's frustrating when there isn't enough of a dial with the development team," the duo wrote.
You have our commitment that we're going to do a better job going forward. Going forward, Destiny 2's post-launch game systems, features, and updates are being designed specifically to focus on and support players who want Destiny to be their hobby – the game they return to, and a game where friendships are made.

We want Destiny to be a game that fits into your life, providing you with reasons to log in and play with your friends, clans, and families. We want Destiny to be a world you want to be a part of.
Here's a breakdown of the changes coming. Some of these cha-cha-changes will come with next week's Curse of Osiris DLC, while the rest of them will be implemented in the weeks to come:
Armour Ornaments – December 5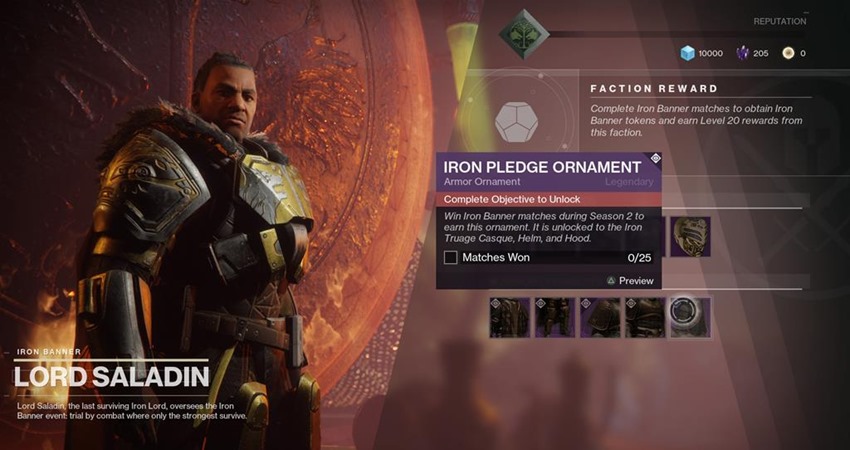 By completing specific challenges, players will now be able to earn new ornaments for their armour that will change the way your gear looks while also preserving any shaders and mods applied to it. These will be unlocked through the various vendors, so players can check with those merchants as to the requirements needed to get some cosmetic changes done. The following armour sets that will have ornaments introduced are:
Vanguard Faction Armour
Crucible Faction Armour
Trials of the Nine Armour
Iron Banner Armour
Dead Orbit Armour
Future War Cult Armour
New Monarchy Armour
Eater of Worlds Raid Lair Armour
Economy changes – December 5
The in-game economy of Glimmer, Legendary Shards and tokens will also be overhauled drastically and fit more in line with the system used in Destiny 1:
Rare mods will dismantle into Gunsmith Materials with a chance for Legendary Mod Components
Banshee will sell a rotating selection of specific Legendary mods, for Legendary Shards and Mod Components
Rahool will sell Legendary engrams for Legendary Shards
Daily Challenges will reward more tokens
Cayde's treasure chests will offer more tokens, but still be random
Strikes will award more tokens
Common Destination token drop rates will increase 100%
Common Destination token value will increase by 50%
Rare Destination tokens will increase in value by 250%
Reputation requirements per engram will increase by 37% at Destination vendors and 50% at the Gunsmith
You won't ened to clear a full raid in order to redeem Leviathan Raid tokens.
Economy changes – December 12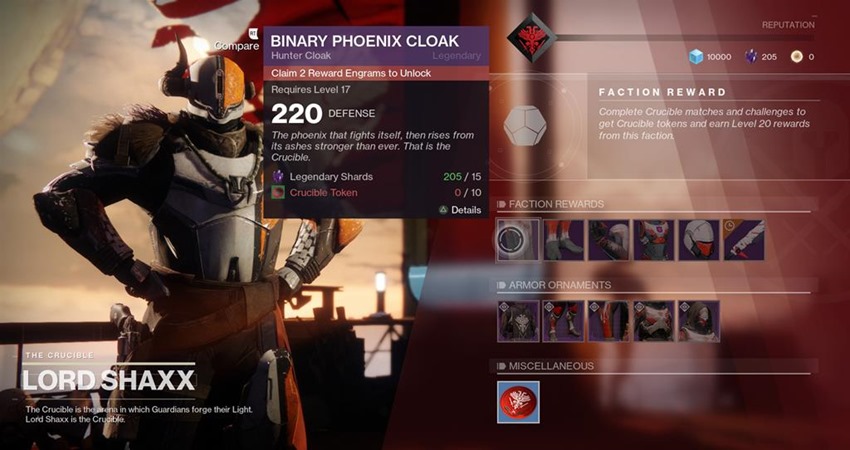 The changes will keep rolling in, with the economy getting more tweaks a week later:
Zavala will sell Gift consumables that give bonus rewards to all participants in a Strike. They cost Legendary Shards. Possible rewards range from tokens to Exotics.
Shaxx will sell Gift consumables that give bonus rewards to all participants in a Crucible match. They cost Legendary Shards. Possible rewards range from tokens to Exotics.
The chest and resource farming lockout will trigger less frequently and require greater provocation.
Farming lockout will not reduce Glimmer earnings, and reduce token earnings to 30%, as opposed to 0%.
Vendors won't be badged when you don't have enough tokens to earn an engram.
Masterworks – December 12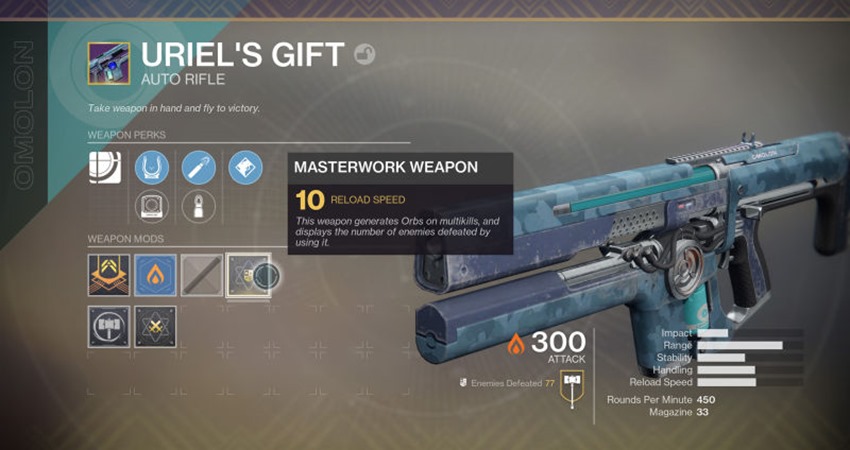 Here's the big one. A new weapon tier will be introduced, that goes by the name of Masterwork weapons. Essentially an upgrade for Legendary-class guns, Masterwork weapons track your kills, generate orbs of light on multiple murders and can have a small pool of stats re-rolled to suit your purposes. These Masterwork weapons can be earned via random drops from any Legendary weapon source and if you choose to dismantle them then they'll offer up resources which can be used to upgrade an existing gun to that tier.
As an example, weapons earned in the Raid and the Trials of the Nine, will have a very high chance of being Masterwork-level guns. Bungie says that is has plans to "extend Masterworks to other gear and expose your kill counts in more places", such as in the Crucible.
Xur – December 12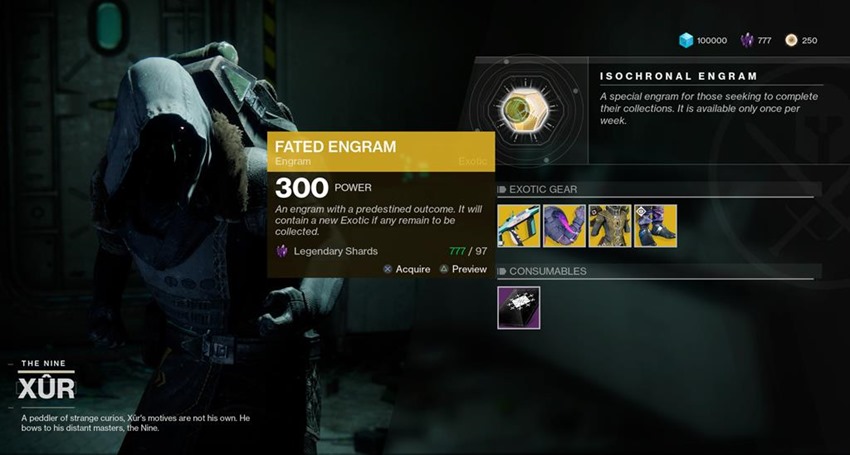 As of December 12, Xur's inventory will feature two new items:
Fated Engrams – You can only purchase one of these a week, but they'll decrypt into an Exotic that you don't own.
Three of Coins – A Destiny 1 favourite, the Three of Coins is back and will boost the chance of earning an Exotic engram for four hours. This new version does not stack and will not expire after a boss battle, nor is there a limit on how many you can buy.
Vendors – December 12
From December 12, players can purchase goods directly from the vendors again with their currencies of legendary shards and reputation tokens. Vendors will now always have a signature piece of armour and a rotating selection of weapons, although this will only apply to "most" vendors according to Bungie.
Players will also be able to unlock slots with their purchases, although Bungie wasn't clear exactly on what this means. I'd hazard a guess that this means an increase in the content available. All past purchases made at the vendors, will be taken into account when the update goes live.
The future
The next month will merely be the start of Bungie's efforts to tweak their persistent-online world further, while keeping players informed. As for the months ahead? Here's another list of what Bungie has planned for 2018 and beyond:
Crucible tuning for Supremacy, spawn rules – December
Heroic Strikes Playlist – December
Better incentives for Prestige activities – targeting January
Ranked PvP – "top of our priority list for next year"
Private Crucible matches – targeting early 2018
Quitter Penalty for Crucible – 2018
Further updates to mod system – 2018
Exotic drop duplication protection – 2018
Equipping multiple emotes – 2018
A visual indicator for farming lockouts – no date
Better incentives for Strikes, Adventures, Lost Sectors – no date
Exotic weapon tuning – no date
That's a substantial number of changes ahead, the most promising of which is a renewed commitment by Bungie to actually communicate its intentions better with its passionate community of Guardians.
Last Updated: November 30, 2017