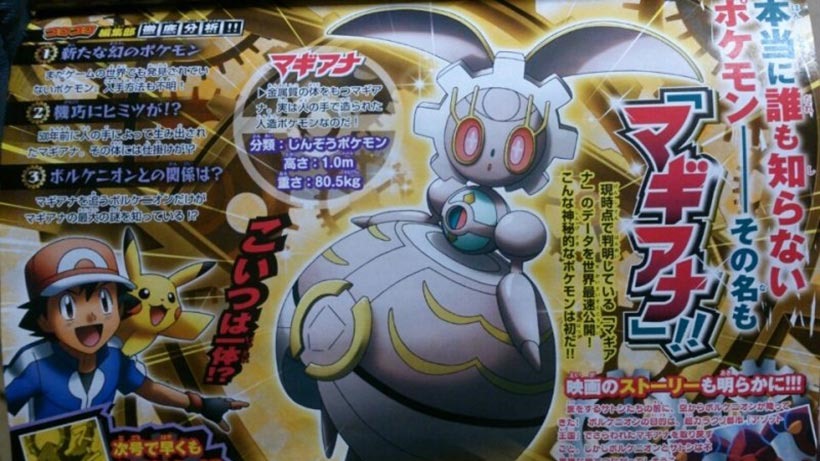 Update: Nintendo has released some official art for Magearna, as well as a proper description: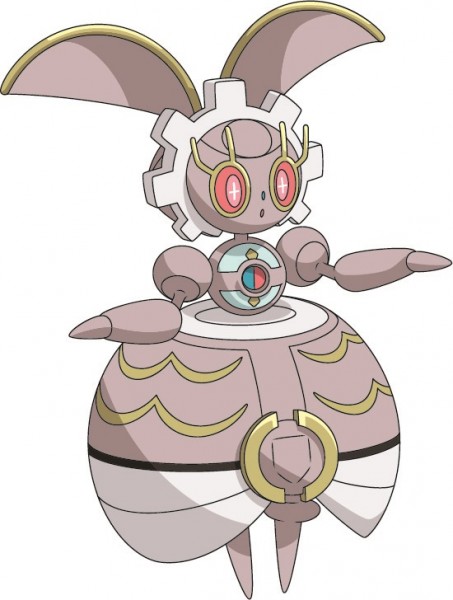 Meet Magearna, the latest Mythical Pokémon to be discovered! Known as the Artificial Pokémon, Magearna has a metallic body and was created by humans 500 years ago.

Category: Artificial Pokémon
Height: 3'03"
Weight: 177.5 lbs.
Man, 721 Pokémon. It took me a while and I had to do things that I'm not proud just so that I could get my hands on a Shaymin, but I did it. I caught, evolved, bred and tapped with special stones all of the Pokemon ever released over the last twenty years. I guess you could say that I did in fact, catch 'em all.
…What do you mean I didn't? WHAT DO YOU MEAN THERE'S STILL ANOTHER POKEMON OUT THERE?! CURSE YOU NINTENDO! CUUUUUUUUUUUUURSE YOOOOOOOOUUUUUUU!
Yep, bump up the Pokedex by an entire single digit, because one more Legendary creature has been added to the roster of pocket monsters. Thanks to Japan's CoroCoro magazine via Serebii, Pokémon 722 has been revealed as Magearna. What appears to be a metallic orb-like Pokémon with a big booty will soon be making its appearance in the next Pokémon movie, Pokémon the Movie: X Y & Z — Volcanion and the Exquisite Mechanical Magearna.
That film hits Japanese theaters in July, although details of when Magearna will be released are still sketchy as it isn't marked as one of the various legendaries that Nintendo is handing out this year for the 20th anniversary celebrations. No other details are known about what type of Pokémon Magearna is, although I'd wage my Master Balls that it'll be a hybrid Fairy and Steel-type when its released to players.
That will probably be in the next Pokémon game, as data for Magearna wasn't found in the info-mining that yielded the hidden secret pocket monsters Volcanian, Hoopa and Diancie. Right listen Nintendo. It's been long enough. Omega Ruby and Alpha Sapphire was fun, but The D demands a new Pokemon game, and enough ear plugs for my readers who are already bracing themselves for my daily posts and features.
Make it so.
Last Updated: February 12, 2016