Whenever I need to insult people, I usually fall back on my favourite gaming reference: I tell my victims to imagine that I'm an old NES cartridge, so that they can blow me. Ha. Jokes about old TV game Golden China carts that are filled with dust and enough of your liquid DNA to help clone an army of super-soldiers aside, I'll never not love the shape and form factor of Nintendo's humble carts.
They're iconic, bulky and the sound of a case click-claking into place will always be music to my ears. Outside of Nintendo and their ill-tasting Switch carts however, the format is essentially dead. What evolved in CDs, DVDs and eventually Blu-Ray discs, has begun to steadily give ground to digital downloads.
That's a pity, as there's nothing prettier than seeing a row of carts assembled on a shelf. Capcom apparently knows this, as the company is planning to celebrate 30 years of Mega Man with some fan-tastic revivals of two of the best games in the series, Mega Man II and Mega Man X. No word yet on that game starring that actress from Transformers, Megan Man.
Developed in conjunction with iam8bit, Capcom will have two Mega Man carts out. Check 'em out below:
Apparently limited to a run of 8500 units, each cart will come packaged with a "a premium box, and instruction booklet, and surprises like retro art in the packaging" according to Game Informer. Also, every one in eight copy will have a cart that glows in the dark. It's sort of like the golden ticket from Charlie and the Chocolate Factory, except you're fighting Dr. Wily Wonka and less children are being brutally traumatised by a madman who is trying his very damn best to make child murder look like zany workplace accidents.
Word of warning though: Since it's an American company, the carts are naturally in NTSC format. Which means that you need to dust off the old RetroBit converter if you're thinking of importing one for yourself.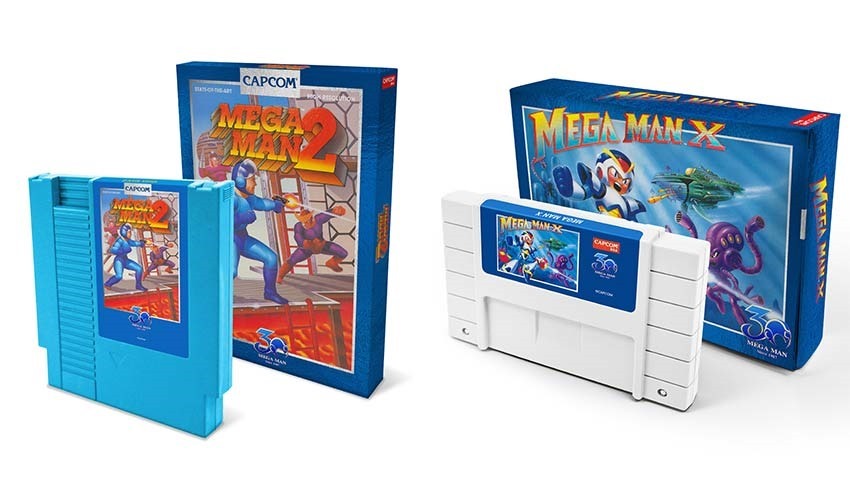 Last Updated: May 2, 2018