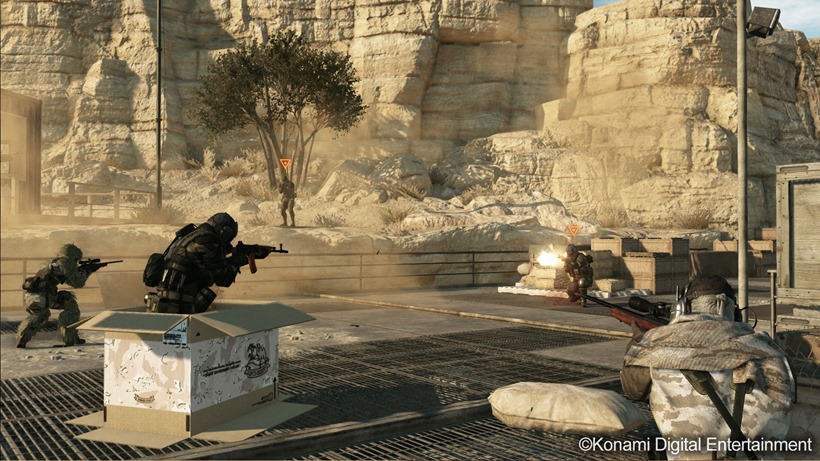 You know that amazing feeling – the one where you put on a pair of old pants and find long forgotten money in one of the pockets… or something along those lines? That's kind of how I feel about Metal Gear Online. I saw the the gameplay demo a few weeks ago, got hyped, completely forgot about it, and only just now realised that the online component to The Phantom Pain will be out as soon as tomorrow, on October the 6th.
Sadly, if you're a PC Master Race user, your version of online will only be available in 2016. Here's what everybody else can look forward to playing though when Metal Gear Online launches tomorrow:
Being a South African citizen, I worry about my Internet usage. Uncapped isn't really uncapped, meaning I have to monitor my usage like a hawk. I would be lying if I said I wasn't worried about having to download dozens of gigglebytes when Metal Gear Online launched, because let's be honest, modern day games take up a crap load of space.
Thankfully the download clocks in at less than a gigabyte according to MGOLeague (via VG247)
MGO3 is available on the JP PlayStation store. DL 950mb. Servers will be up tomorrow. Link: https://t.co/8splPY5Ri0 pic.twitter.com/0lauc6TPnj

— MGOLeague (@MGOLeague) October 5, 2015
I presume this small download requirement is thanks to Metal Gear Online making use of many of the same assets found in the single player component of The Phantom Pain.  I'm pretty sure a number of updates will follow (optimisations, balancing, etc), but at least nobody has to endure a painfully large download from the get-go.
My only other concern now is the lag issue. I'm very hopeful that Metal Gear Online is decently playable. If not, well, you'll find me sobbing in that corner, in my cardboard box. I'm super excited to Fulton actual people, rather than AI for a change.
Last Updated: October 5, 2015