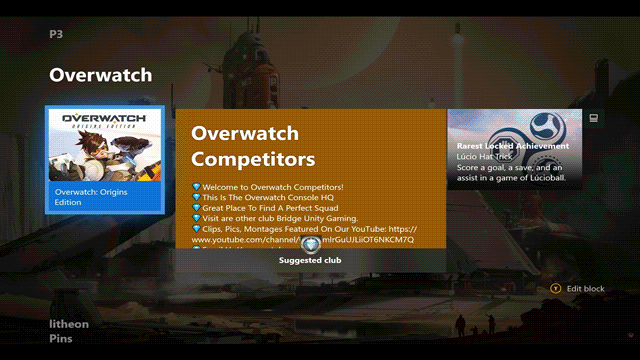 The Xbox One is a good console. A good one, but one that is tied down by a range of small issues, whether it be a lack of raw power or real issues with user interfaces. The latter is an issue Microsoft could've rectified since the console launched, but has somehow only managed to make worse over time. The clutter combined with the bogged down speed makes navigating the console painful. But it's 2017 – and in line with all the gaming goods we've already received this year, and new Xbox One UI is just the cherry on top.
Microsoft's Major Nelson revealed the drastically changed UI last night, which looks as diluted and simplistic as it probably should've been from day one. The main page features some slight recommendations based on your past gaming habits, letting you launch your last game right away or add new friends based on your last session. Directly underneath that is a Games and Apps panel – populated with your most recently used applications for quick and easy access. A no brainer really, but one that has taken four years to realise.
Customisation is the name of the game here, and so Microsoft is giving Xbox One users more freedom to change the landing page to what they'd like. Pins filled this slot in the past, but the functionality is greatly expanded upon here. Beyond that, every other facet of the UI has been tweaked. The Guide is also much cleaner to navigate, as well as a hell of a lot faster. if the footage above is exactly the type of speed we can expect, it makes the current UI look generations behind.
Communities and game hubs are also getting reworked, both with accessibility and ease of use in mind. The overall package just seems far more streamlined, despite the interface still feature a lot of information for you to sort through. There's still something to be said about the amount of fat that might not need to be there at all, but this is a step above anything the Xbox One has seen yet. It's rolling out for testing now, and hopefully will be ready in time for the Xbox One X launch in November.
Last Updated: August 8, 2017