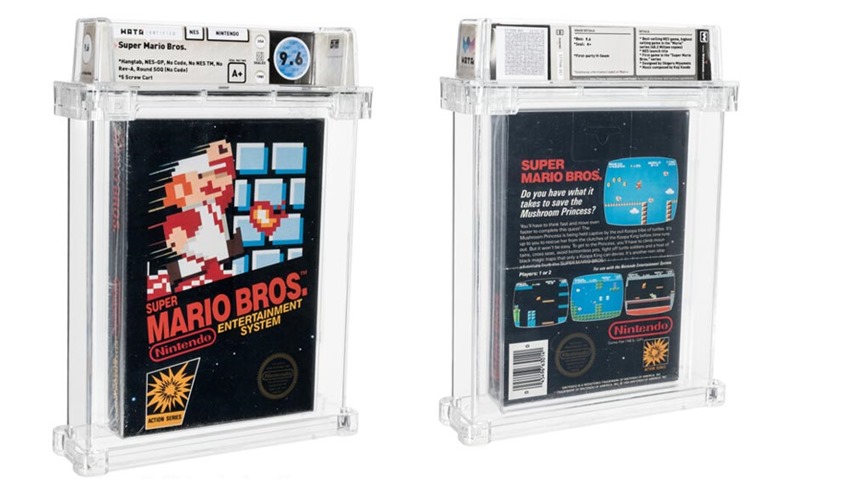 Turns out that the best investment for retirement these days isn't GameStop stonks that'll take you straight to the moon, but rather video games! Before you start hoarding all those old 32-in1 TV game cartridges though, it's worth noting that it's good video games in mint condition that'll secure you a hefty payday.
Take an unopened copy of Super Mario Bros. for example, as the classic Nintendo game didn't just set a new world record for how much a video game could sell for, it completely smashed the previous one. The NES classic had previously sold for a whopping $114, 000 at auction, but this latest round of furious bidding saw the pristine condition game go for a ludicrous $660,000 at Heritage Auctions in Dallas.
What an absolute idiot, you can buy the game for like $5 on the Nintendo eShop.
Anyway, the game had a 9.6 A+ grade, which is pretty much as close to new as you can get without having been in the actual factory where the box cover was pressed. What made it especially valuable was that this copy came from the incredibly short production run of between late 1986 and the beginning of 1987, back before Nintendo added the trademark Game Pak NES-GP symbol to the NES on its game boxes.
"This particular copy was produced in late 1986, and it was one of the earliest copies produced that had plastic shrink wrap, rather than sticker seal," Heritage Auctions video games director Valarie McLeckie said via Eurogamer.
By early 1987, Nintendo was producing a version that had another new variation to their original packaging (an additional 'code'). Since the production window for this copy and others like it was so short, finding another copy from this same production run in similar condition would be akin to looking for a single drop of water in an ocean. Never say never, but there's a good chance it can't be done.
As for how this game survived more than three decades of Reagonomics, the single TV run of Homeboys in Outer Space, and Carrot Top's transformation into the scariest bodybuilder to ever live? Apparently the game was purchased as a Xmas gift in 1986, was left inside of a desk drawer, and just stayed there for 35 years until it was discovered.
"It stayed in the bottom of my office desk this whole time since the day I bought it," said the seller who wished to remain anonymous and suddenly rich. "I never thought anything about it."
Last Updated: April 6, 2021