We love our analytical sites. Often we're treated to interesting statistics and analytics from sites like Newzoo, but while these showcase big numbers in an effort to impress us, there's no real indication on the hows and whys. Mobalytics, a new analyst website, has just secured major funding from various investors to kickstart their new company with the aim of offering statistics to help improve your game. They're now in the process of acquiring "passionate gamers" to further their application of making you the better players.
Mobalytics originally won the Disrupt San Francisco's Startup Battlefield, from there the process began where they racked up $2.6 million in funding from Almaz Capital, Founders Fund, General Catalyst and GGV Capital, their first of hopefully many investments.
The aim of Mobalytics is to sharpen your skills as a gamer, and will fast become the go-to source for all eSport analytics. While other sites may focus on the economic growth, Mobalytics will focus primarily on professional player's strengths and weaknesses in an effort to bring readily available information regarding your favourite pros right to your fingertips.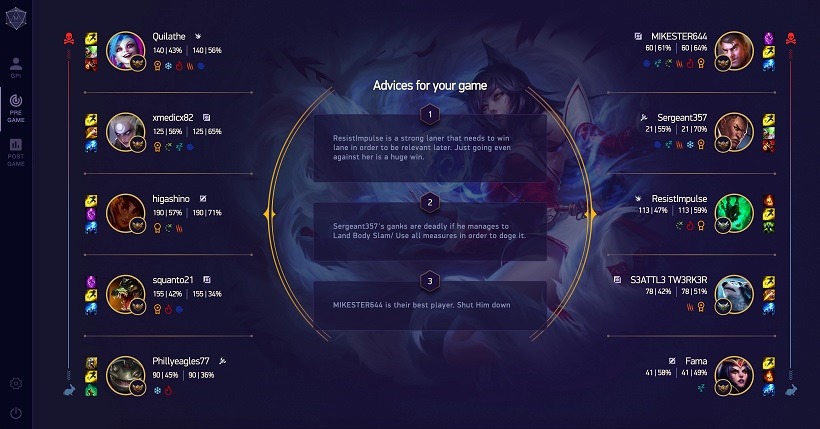 In a statement, Mobalytics offered insight into their future plans.
"The most important goal for now is to make sure that our algorithms generate meaningful insights and add value to the player experience," Amine Issa, Mobalytics co-founder and chief scientist, said. "We want players to see themselves in the Gamer Performance Index. Only in that way will they trust the platform and rely on Mobalytics to up their game.

"We believe that eSports is an amazing field to apply a 'Moneyball' approach," said Mykola Lobanov, CTO and the third co-founder of Mobalytics. "In contrast with traditional sports where you need to create complex solutions to get data, eSports data is readily available and actionable. With some intelligent manipulation there is almost no limit on the amount of insights you can uncover."
Mobalytics is entering the early beta process in November, going live to 10,000 users. League of Legends, being the first game offered, comes as no surprise as the eSport is the largest in the world and data is easily accessible through their API. Games of interest include Overwatch, and the company will eventually add more titles which fall under the "moba-lytical" umbrella.
Last Updated: November 21, 2016