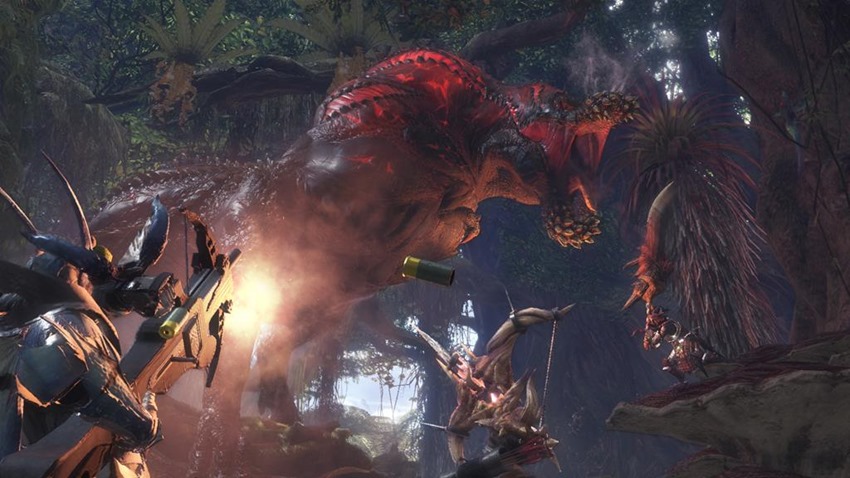 It doesn't make sense. No single person has enough upper body strength to wield a sword that's roughly the size of a Honda Miata, and still have enough stamina to remain standing after using it to bludgeon a dragon to death with it. I tell you, I am utterly shocked at how a game set in a rich fantasy world of fantastic beasts and knows where to find them, just ignores the laws of physics so blatantly.
Shocked I say. Clearly, some balancing is required.
While Monster Hunter World won't include a new tweak that has you seeking medical assistance for tearing your rotator cuffs to shreds after a single hunting expedition with said beefy weaponry, its various weapons will soon be tweaked in an upcoming major update. Even better, the patch will add the Deviljho monster to go along with new weapon designs, allowing players to craft the Vangis α and Vangis β armour from its remains.
Melee weapons will primarily be in the update crosshairs, while Capcom says that online griefing behaviour will also be targeted. If you're the kind of jerk who gets in the way of your teammate during a carving session, then such behaviour will no longer be tolerated and players can cut away in piece as their actions will now be uninterruptible.
Here's the full list of cha-cha-changes on the way on March 22:
Weapon Balance Changes
Great Sword: increased the damage for Charged Slash abilities.
Long Sword: improvements to Foresight Slash input timing and hitbox detection.
Sword & Shield: Roundslash damage increased and improved slinger usability
Dual Blades: adjustments to help maintain Demon Gauge active
Hammer: adjusted the stun values on charged attacks
Hunting Horn: general attack power increase
Lance: Counter-thrust adjustment to increase ease of use
Gunlance: Reduced sharpness loss for shelling, and made some attack power increases
Switch Axe: Zero Sum Discharge adjustments to increase ease of use
Charge Blade: balance adjustments to Impact Phial and Power Element Phial
Insect Glaive: improvements to extract attack power increase and extract effect length
Bow: fixed various bugs
Light Bowgun: no adjustments were made
Heavy Bowgun: no adjustments were made
Other Changes
Attacks from allies no longer interrupt you during the carving animation. Additionally, players are now immune to all hit reactions, including bombs, during carving animations after quest completion.
Added "Return to Gathering Hub" (single player) and "Disband & Return to Gathering Hub" (multiplayer) to the options for "Select Return Destination" after a quest has been completed.
Added the "Text Size" setting for changing subtitle text size, under Start Menu > Options Game Settings.
Last Updated: March 20, 2018