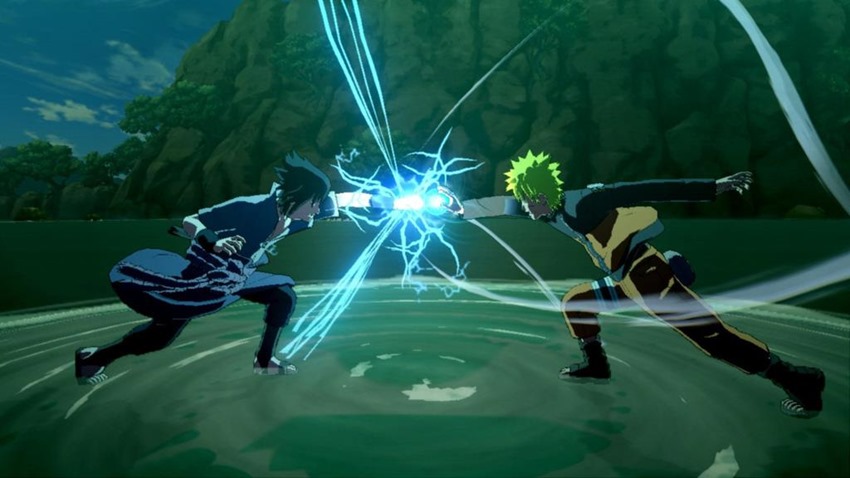 Dragon Ball Z may have set a new benchmark for anime video game adaptations way way back in 2002 with the first chapter in the Budokai series, but it was the Naruto games that truly pushed the sub-genre to glorious new visual heights. With each successive game upping the ante, Naruto's Ultimate Ninja Storm saga will still be the measuring stick that all cinematic action games are measured against.
A stick that's about to get…Switchy. Nintendo Switchy if you catch my drift no jutsu.
Yup, CyberConnect 2 is asking you to believe it yet again, as they'll be using their summoning no jutsu to transfer an entire series to the Nintendo Switch. That's not one, not two but three games folks. THREE! I may have used the forbidden reanimation technique to revive Billy Mays for my battle against Original Matty in the Fourth Great Chocolate War but that's besides the point. Five Star will never win against Tex, not while I still draw breath.
That Switch bundle will include Ultimate Ninja Storms 1-3 according to Game Informer, although the final fourth game didn't make the cut seeing as how its visuals were a tad bit insane on launch, and parent company Bandai Namco isn't in the mood to downgrade them for the Nintendo handheld. Which is fine really, because the majority of the games are pretty much all the same, sort of like shadow clones of one another.
So far, the Switch Ultimate Ninja Storm trilogy will only be released in Japan. Considering how well Bandai Namco's other big anime franchise did last year on the Switch, Dragon Ball XenoVerse 2, it's not exactly difficult to imagine this collection getting a western release in the near future either. If you've never played Naruto games before, the story itself is simple:
A mentally handicapped alien from another afterlife-world crashlands in the hidden Grand Sea village and yearns to one day be acknowledged as the Shinigame Hokage King by his peers that ostracised him and his penchant for violence and all-you-can-eat food buffets. I think. Either that, or I just described Fairy Tail perfectly.
Last Updated: February 26, 2018