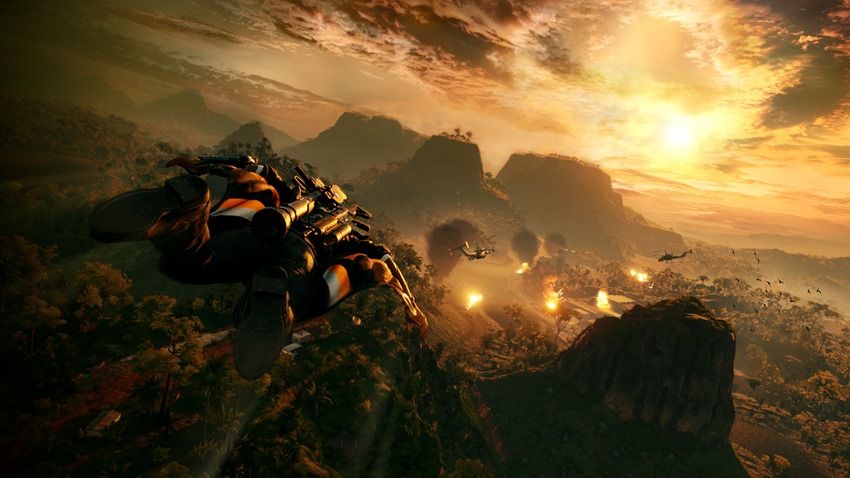 Well technically it's going to rock you like a tornado, because hurricanes are very very different type of weather phenomena for a multitude of reasons. Unlike a hurricane however, tornados in Just Cause 4 aren't one-hit wonders. They're mobile engines of destruction, nigh-unstoppable weather-whackers that will utterly mess your day up in grand scheme, striking with the vicious brutality of a mother nature in law gone rogue.
I still got to see this gameplay at E3 earlier this year, where Avalanche showed off not only the new tornados but the Apex engine powering it. It was wild stuff, as the software was responsible for rendering hundreds of objects being tossed around in real-time, physical destruction and the actual gameplay that players could utilise and take advantage of.
Wild stuff, especially if you got to see it in action. You didn't though, and I'm kind of bummed that some of my friends who appreciate the subtlety of detonating a Bavarium warhead. Well buckle up buckaroo, because that footage has finally been released to the public. So sit back, grab your swarthiest Latin America accent and take a deep dive into this tall drink of destruction. Drink it aaaaallll up:
Thanks to the amazingly powerful, new Apex Engine, Avalanche Studios have taken the series signature destruction and incredible physics to a whole new level with the introduction of fully simulated Extreme Weather events.

This new video highlights the sheer power and scale of one of the 4 unique, Extreme Weather simulations in Just Cause 4, the breath-taking Tornado. Players will experience fully physicalized, gigantic Tornados rip through the landscape, send huge pieces of debris spiralling through the air and tear airplanes out of the sky. Once in its path, the trajectory of every object is being calculated in real-time, opening up unique and brand new gameplay opportunities only available in Just Cause 4.
Just Cause 4 drops on December 4. I'm secretly hoping that it'll have at least one stage that is set in a gigantic shopping mall that is overcrowded, so that I can get some catharsis by unleashing tornados on bastard shoppers for the silliest season of all time.
Last Updated: August 22, 2018