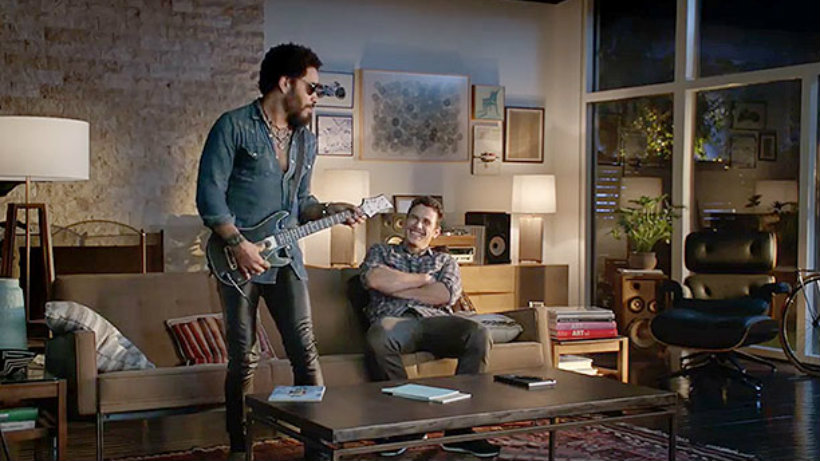 Oh Lenny Kravitz, I don't know why I still find you adorable, but you seem to made entirely of charisma and piercings. No, really, in case you didn't know, there was some drama a few months back when he played an event and split his pants open, revealing some rather intriguing jewelry in places where men don't always wear jewelry. Of course he embraced the joke, and so did Activision in a new ad.
Guitar Hero is about to make a comeback, perhaps like Mr Kravitz, and assuming my hand- on time with the game was actually indicative of the final product, it's going to be a rather addictive party game again. Of course the game would have to be as charismatic and charming as a combination of Lenny Kravitz and James Franco, so they are channeling both of their energies into this new commercial.
I know, it's just a short clip that focuses primarily on the joke about PenisGate, but I still find it rather amusing. In the end, Guitar Hero is just a fun game to play when you get together with friends who will invariable spend most of the time trying to throw you off your game with random inside jokes. That's what this ad is showing, right? It's a party game that's supposed to give some big laughs, and I guess I can imagine Lenny Kravitz and James Franco partying together.
Guitar Hero will feature a cool first-person campaign mode as you take your band on tour and work your way up through a range of gigs. There's also going to be a streaming service, though, and I'm curious to see how it works for us here in South Africa before I get too excited – not that I have to worry about it the way Mr. Kravitz does.
Last Updated: October 5, 2015