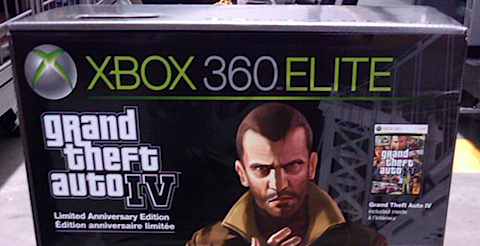 To celebrate the birthday of Grand Theft Auto IV, Microsoft has decided to put together a new limited bundle for their Xbox 360 Elite SKU.
The bundle will include the Xbox 360 Elite, a copy of Grand Theft Auto IV as well as two limited edition stickers of the Liberty City sports team logo and a GTA IV logo. Two stickers, really?
Availability and pricing has not yet been detailed. There is however something about this bundle that I find very strange and it is sure to be a let down to many interested gamers.
Microsoft were very happy to use the fact that they had exclusive DLC for GTA IV when it came time to market the living hell out of the game, but have chosen to not include the DLC as part of the bundle.
Surely they are still trying to make back the huge amount of money that they paid for the exclusivity, and are hoping that the bundle will boost sales for the Lost and Damned.
Keep an eye out for more details in the near future.
Source: Kotaku
Last Updated: April 30, 2009