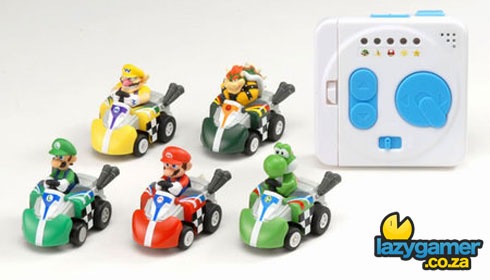 It's probably because I was raised on all things Nintendo, but there's something about cool Nintendo merchandise that gets me excited. Nothing though, prepared anybody form the girly squeals that emanated from me when I first saw Tomy's new line of Mario RC Kart racers.
Radio controller Mario Karts have been available for ages – so what's special about these ones that they've reduced my hairy man-frame in to an effeminate, squealing lump?
Well, these don't just drive around. Each racer gets randomly assigned periodic power ups – like shells, stars, bananas mushrooms etc – indicated by LEDs on the remote which they can actually unleash on other cars. Each car is equipped with nifty sensors that will detect when they've been hit  and will spin out. Mushroom power ups will actually give your racer a temporary speed boost.
Each remote control is even equipped with a speaker, for authentic sound effects and the inevitable sound of Charles Martinet going "Woohooo!" They go on sale in Japan this month for the equivalent price of about $30 (R230) Each. I must have every single on of them.
Source : Newlaunches
Last Updated: June 2, 2010