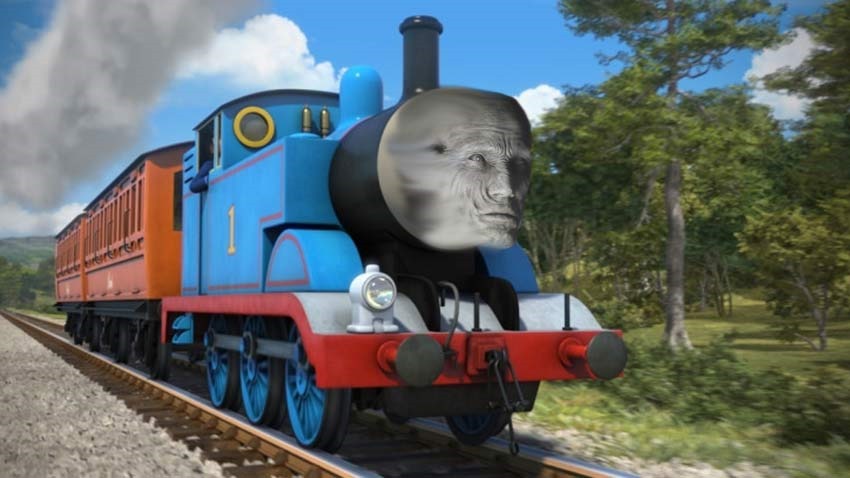 Thomas wasn't alone…
If there's one thing that Capcom's Resident Evil 2 gets right, it's the pants-crapping terror that comes with turning a corner and finding yourself face to decaying face with a slab of mutated zombie muscle that simply cannot be stopped. In a game that features agile Licker bastards infused with the DNA of KISS frontman Gene Simmons, regular undead citizens looking for a bite to eat and those damn dogs (I HATE ZOMBIE DOGS!), Mr X works brilliantly thanks to the sense of dread that he evokes.
Just simple, brutish violence that cannot be stopped, only momentarily halted. With Resident Evil 2 being out on PC, some fans have decided to have some fun with Mr X and crank out a few mods for whenever the character appears, such as the recently released Mr DMX mod that is definitely gonna give it to ya:
I think that one may have been topped, because what could be scarier than that? An in-game modification that transforms Mr X into…Thomas the Tank Engine:
It's hilarious, it always ends in pain and I think modders ZombieAli and DJ Pop have won the Internet. If you're looking to have some fun with your PC copy of Resident Evil 2, you can grab the model files here and the delightfully catchy music files right here. Which has me thinking, what other great mods would you like to see in Resident Evil 2?
Geoff's got a great idea: The Kool-Aid Man. Because the only thing more terrifying than seeing the pale smiling gaze of Thomas the Tank Engine coming at you would be that of a gigantic anthropomorphic jug of red chalk water crashing through a wall to get to you. OH YEAH!
Resident Evil 2 is out right now. It's kind of awesome, even if the console versions don't have pop culture modifications that you can apply to the biggest bad in the game.
Last Updated: March 4, 2019