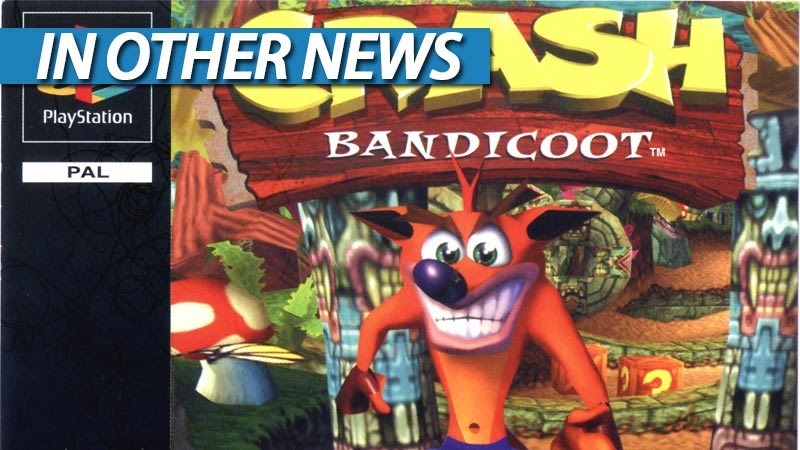 It's the mid 1990s. You're one of the chosen few, a lucky little bastard whose parents decided to you you a PlayStation home video game console. At the time, the launch line-up for that console was the stuff of dreams: Resident Evil, RayMan and Ridge Racer to name a few. But a few months later, the PlayStation would get its killer game: Crash Bandicoot.
It was stupidly fun stuff, leveraging the best of that console's capabilities to create something magical. The Crash Bandicoot love would roll on for a few more years, eventually crashing (teehee) and burning as the character was left to rot on a pile. But you never forget the first time you clobbered some crates and collected ALL of the power-ups, a feeling that a brand new generation will get to feel soon.
Although I might just dig out the PlayStation that Matty's mom threw out and give the original a whirl again. Now where'd I put those weird audio-visual cables?
In Other News: Halo Wars 2 spins some new story, Titanfall 2 is still struggling and Crackdown 3 is this much closer to finally having a release date.
Here's the news that we didn't post today because CRASH! AH-HAAAAA! SAVIOUR OF THE PLAYSTATION!
News
Ys Origin is coming to PS4 and Vita early next year
Final Fantasy 15 Japanese Cup Noodle commercial is all kinds of crazy
MechWarrior 5: Mercenaries announced
Yakuza 6 gets a western release date along with original Yakuza remake
Halo Wars 2 story trailer showcases super villain Atriox
Crackdown 3's release window narrows
New Rain World trailer sneaks out of the PlayStation Experience
Titanfall 2's digital sales haven't picked up physical slack
Stuff
Guy buys PS4 dev kit full of secrets from closed studio
Performance Analysis: Final Fantasy 15
Counting down the months until Persona 5 is out
Why The Last Of Us doesn't need a sequel (and why we'll play it anyway)
Videos
What's on at The Movies
Monday Box Office Report – Smooth sailing for MOANA on slow weekend
Netflix's sci-fi drama SENSE8 gets a Christmas special and season two release date
Check out the trailer for Netflix's cool looking sci-fi military ghost thriller SPECTRAL
This first full trailer for THE MUMMY reboot will claim what it has been denied!
Last Updated: December 5, 2016