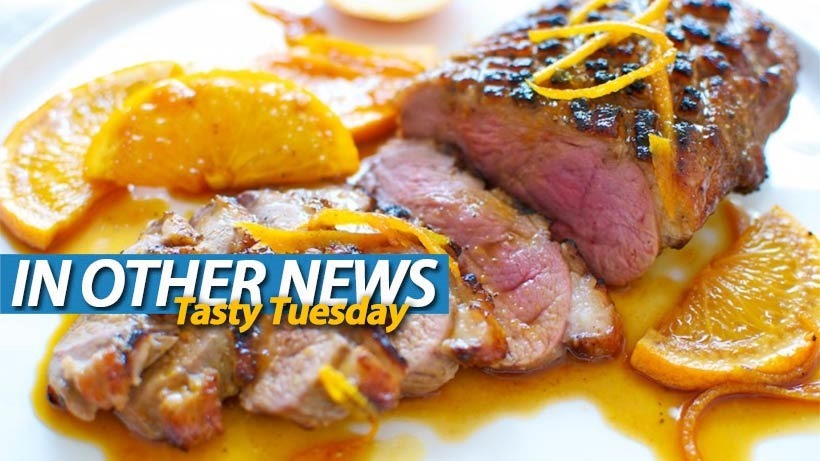 It's the beginning of the year, which means that it's time to focus on healthy eating. So to kick off 20167's first Tasty Tuesday, we're chatting up salads leafy green vegetables, grains, pulses and infinite sadness. Yeah, maybe not. Let's talk about one of the most ubiquitous dishes in the 70's; a hallmark of French cuisine, and – when I was too young to know how much it all cost – one of my very favourite meals.
Canard à l'Orange! Crispy roast duck, served with an orange sauce. Fattier and richer than chicken, duck is a bit harder to cook right, but when it is, it transcends that most pedestrian of fowl. It's complimented perfectly with a sweet, but not too sweet sauce made from reduced orange juice. Crispy skin, juicy roasted meat and that fresh citrus? It may have very much gone out of style, but it's still sublime.
In Other News – The saddest game in the world is out, DCUO comes to XBOX, Homefront is coming in May and Sci-Fi David Bowie.
News
Koei Tecmo targeting 1080p/60fps for Ni-Oh
Marvel Heroes creator Brevik leaves Gazillion
Destiny weekly reset for January 12 – Court of Oryx, Nightfall, Prison of Elders changes detailed
Homefront: The Revolution coming in May
Mario & Sonic at the Rio 2016 Olympic Games gets release date
JRPG Stranger of Sword City rated for PC
DC Universe Online is headed to Xbox One this spring
That Dragon, Cancer out now
Stuff
When a Final Fantasy artist (And Neil Gaiman) did sci-fi David Bowie
Performance Analysis: Metal Gear Rising: Revengeance on Android
Rainbow Six player gets abandoned by team, still kicks everyone's ass
Why Destiny fans think the series is headed to Mercury
Videos
Attractio – Debut trailer
Final Fantasy IX – Steam announce trailer
Star Wars: The Old Republic – Anarchy in paradise trailer
What's on at The Movies
These trailers for NORM OF THE NORTH might be the worst things I've ever seen
RUMOUR: Ridley Scott in talks to direct THE PRISONER
CAPTAIN AMERICA: CIVIL WAR directors explain how their Spider-Man will be different
There's plenty left to fight for in this first trailer for FREE STATE OF JONES
AVENGERS: INFINITY WAR will feature entire Marvel Cinematic Universe
What in the good God is going on in this trailer for ELVIS & NIXON?!
New Hulu series 11.22.63 asks you to step inside its closet
Last Updated: January 12, 2016