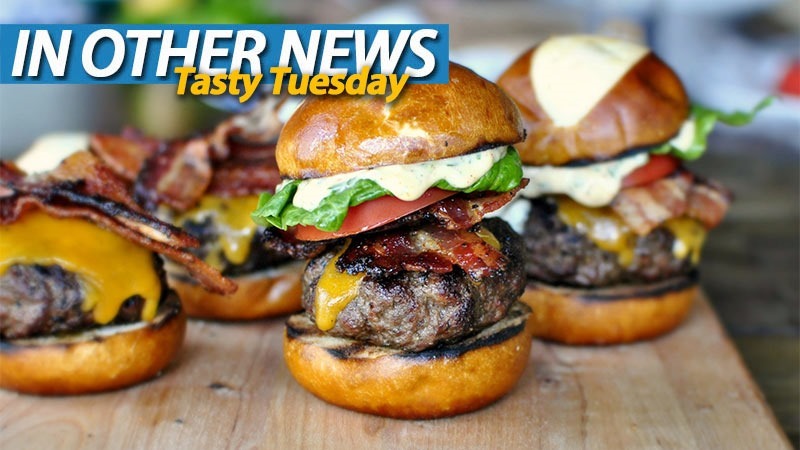 I love burgers. They're possibly one of the most perfect foods, a wonderful combination of just charred meat, melted cheese, smoky bacon and perhaps even a pickle. Problem is, I can only really ever eat one good burger – and who wants to do that? That's why sliders are great, giving us diminutive burgers that let us stuff our faces multiple times.
To make it even better? Use a pretzel bun. I love laugenbrotchen; lye soaked breads that are dipped in the alkaline solution before being baked. It helps increase the Maillard reaction, leading to a deliciously chewy, tasty as hell bread. I'll have a dozen.
In Other News: Nintendo Switches on in January, Return to Arkham goes Pro, Fantastic Beats and where to find the LEGO ending and Crytek is in Crisis.
Here's the news we didn't post because we were too busy looking at ridiculous bottles of rum. Rum is gross, who drinks that anyway?
News
Batman: Return to Arkham gets PS4 Pro support
The PC is finally getting a hockey game, and it's straight outta the '90s
Nintendo Switch January event time and date announced
Memoranda is a gorgeous point-and-click adventure about memory loss, due January
Bastion released on Xbox One today, and it's free for those who have it on 360
LEGO Dimensions Fantastic Beasts patch adds in deliberately omitted real ending
Gamers are streaming from the White House, but did Russia put them there?
Rumours of further trouble at Crytek are circulating
Stuff
SoulCalibur's anniversary celebrated…with Pachinko
How the Pokémon world is changing for good
If Overwatch was cyberpunk
Tech Analysis: The Last Guardian
Videos
What's on at The Movies
JUSTICE LEAGUE 2 delayed to make way for Ben Affleck's solo BATMAN film
Director Gareth Edwards discusses all those ROGUE ONE reshoots
STRIKE BACK TV series is being rebooted with a new cast
DVD Review: THE SHALLOWS – Just feel, don't think
Harrison Ford may not feature as much in BLADE RUNNER 2049 as we thought
This final trailer for ASSASSIN'S CREED is destined for greatness
Last Updated: December 13, 2016