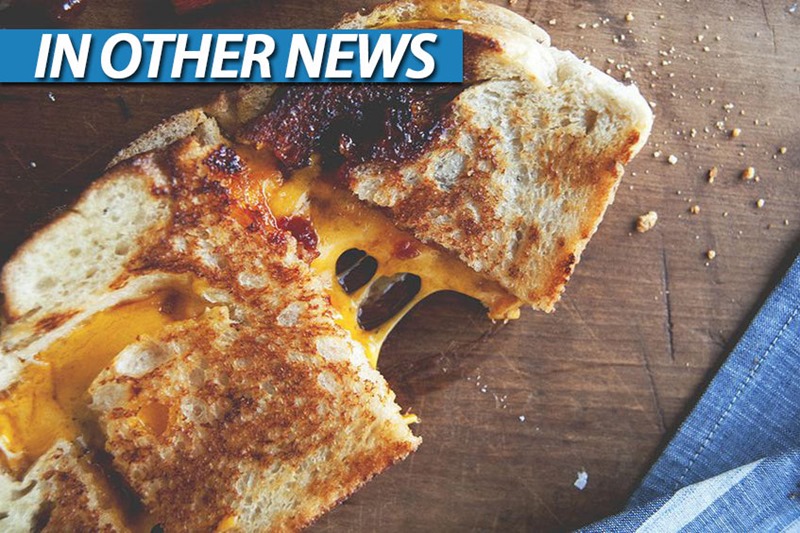 How do you improve on the good ol' cheese sammich? It's pretty much the easiest thing to make, as even I can whip one up and not have to worry about anybody being rushed to have their stomach pumped at the nearest ICU. But the answer to that, lies within another treasured South African pastime: The braai. When you've put together a cheese toastie and slapped it on top of a heated grill that has already had numerous meats on top of it, something wonderful happens.
There's just something that you can't properly explain about the flavour of a cheese toastie that comes straight off of the braai grid, with those black scorch marks adding to the flavour. Personally, I like to have three cheeses in my sarmie that consists of cheddar, gouda and a sprinkling of feta. Maybe you like to augment yours with a few slices of fresh tomato. Or maybe you're brain-damaged like Z and like to add some onion to the sammich as well.
But whatever your taste, it's normally delicious when you take that hot package straight off the grill and dig into the gooey treat beneath the crust. Crap, now I'm super-hungry.
In Other News: The trials of Tattooine begin today, Xavier Woods is one dedicated Pokemon Go trainer, Witcher 3 cosplay that's monstrous and three new Battleborn maps for the three people still playing that game.
Here's the news that we didn't post today, because I was too busy teaching my cat how to skateboard.
News
Pokemon Go's three-step glitch is making it hard to track Pokemon, but there's a fix
Trials of Tatooine arriving on HTC Vive today for free
Bandai Namco will reveal a new IP at gamescom 2016
Microsoft says Windows 10 will miss 2018 1bn install base target
Green Man Gaming kicks off its summer sale with cheapest XCOM 2
World of Warcraft's "pre-expansion patch" goes live tomorrow
Three new Battleborn multiplayer maps coming this Thursday
Minecraft: Story Mode episode seven will be out next week
Stuff
Xavier Woods is a level 21 Pokémon Go trainer
Two weeks on, has the YouTube CS:GO Lotto controversy changed anything?
All these Witcher 3 monsters are by the same cosplayer
Homefront: The Revolution performance boosted by up to 25 per cent
Videos
What's on at The Movies
Good grammar is the least of your worries in this red band trailer for THE EDGE OF SEVENTEEN
SUICIDE SQUAD tracking to break records – plus new character videos
STAR WARS: Alden Ehrenreich officially confirmed as Han Solo; EPISODE VIII production details revealed
They're seeing white people in this trailer for BOO! A MADEA HALLOWEEN
The Nice terror attack stops BASTILLE DAY in its tracks
Last Updated: July 19, 2016