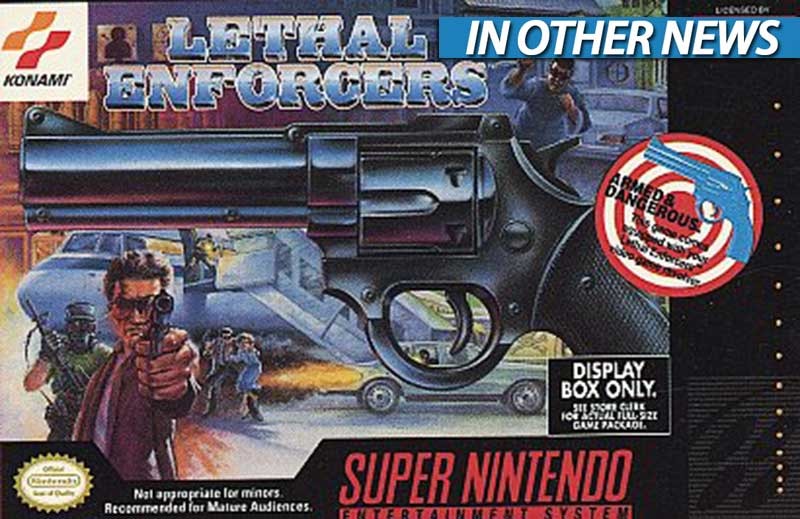 You know, with all this talk about the Nintendo Switch I kind of lost myself in all the excitement. Now you have to ask yourself one question punk: Did I fire five shots, or 317? Because the game I'm thinking about today was pretty much a Dirty Harry in all but name. I had way too much fun at the arcades playing Lethal Enforcers, a game that was very much welcome during the crime-heavy days of PE.
The setup was as simple as you'd get for games that featured a Light-gun accessory: Kill everything on the screen and ask questions later. But having just watched the Dirty Harry movies as a kid (essential viewing according to my dear old dad), the idea of holding a .357 plastic Magnum in my hand and blasting drug lords away was just too much fun.
It got ported eventually over onto the SNES, Genesis and Sega CD, but nothing beats the original arcade version of Lethal Enforcers. NOTHING.
In Other News: Skyrim is looking better than ever, Battlerite adds a pair of new faces and paying homage to the most underrated of Batman games.
Here's the news that we didn't post today, because we were too busy saving the public prosecutor by switching her TV channel back to Sesame Street.
News
Skyrim Special Edition PS4 gameplay shows all cities looking better than ever
Battlerite is getting two new characters and a bunch of Halloween stuff
Surprise! The Call of Duty: Infinite Warfare beta opened up a day early
Medieval Engineers "relaunches" with a major gameplay update
German gamers, the time has come: Red Faction is now legal in Deutschland
Amnesia is finally coming to consoles with three game collection
Star Trek: Bridge Crew pushed to 2017
PlayStack: 'The games industry is well equipped to survive Brexit'
Stuff
Videos
What's on at The Movies
We review JACK REACHER: NEVER GO BACK – Solid throwback actioner, but doesn't reach for much
WILLY WONKA prequel film is going into development
Vin Diesel talks "very very dark" FAST 8 and how it could get an Oscar nomination
Top List Thursday – Top 10 80's/90's cartoons that could be live-action movies
Imagine yourself in a neutral state while watching this trailer for A CURE FOR WELLNESS
Last Updated: October 21, 2016