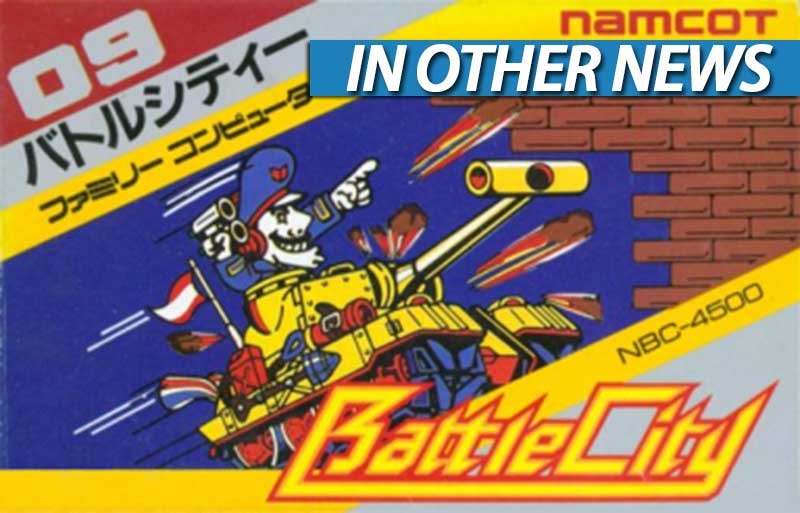 Humanity has achieved much over the last century. New medical technologies, space travel and the Internet come to mind. But they all pale in comparison to the greatest invention of all time: The mother-lovin' tank. Can Penicillin stop terror with an armour-piercing round? No! Could the discovery of DNA freely travel over terrible terrain to bring justice to rebel forces? Hell noooo.
Tanks are awesome and always will be. Even if I'm technically not allowed to drive one ever again thanks to that incident at EP Command when I was in high school. But at least I could get some satisfaction from tanks via Battle City. One of the simplest NES games out there, Battle City was addictive in its streamlined approach. And utterly fantastic when you got the right power-ups.
They don't make games like that anymore! Or offices, like the one that that moody colonel used on that one fateful day on the army base…
In Other News: Shadow Warrior 2 has free updates on the way, Agony has some gory puzzles and we need more Sean Bean in video games.
Here's the news that we didn't post today, because we were too busy initiating Protocol X.
News
First set of free content updates in the works for Shadow Warrior 2
YouTube blocks Samsung's copyright claim on exploding Note 7 GTA mod video
Gears of War 4 devs to implement harsher Quit Penalties, address Horde Score abuse issues
Team17 signs new VR game by former Burnout makers
Rage Disco is about a cyborg archaeologist, an ancient party, and a missing jacket
Massive DDoS attack knocks out major sites including Twitter, Tumblr, and Reddit
Agony might be the goriest puzzle game ever
Star Citizen is free to play for the rest of the month
Stuff
Imagining the Nintendo Switch in different colours and themes
The making of The Witcher 3's greatest villain
Sean Bean is magnificent in Civilization VI
DF Retro: Crusader: No Remorse – another Origin Systems PC classic
Videos
What's on at The Movies
We review DON'T BREATHE – Horror that's simple, taut and satisfying
GAME OF THRONES' Miguel Sapochnik to direct new SINBAD feature film
The black & white version of MAD MAX: FURY ROAD plays better, says George Miller. He's probably right.
Pixar goes dark in this animated short-film BORROWED TIME
Last Updated: October 24, 2016