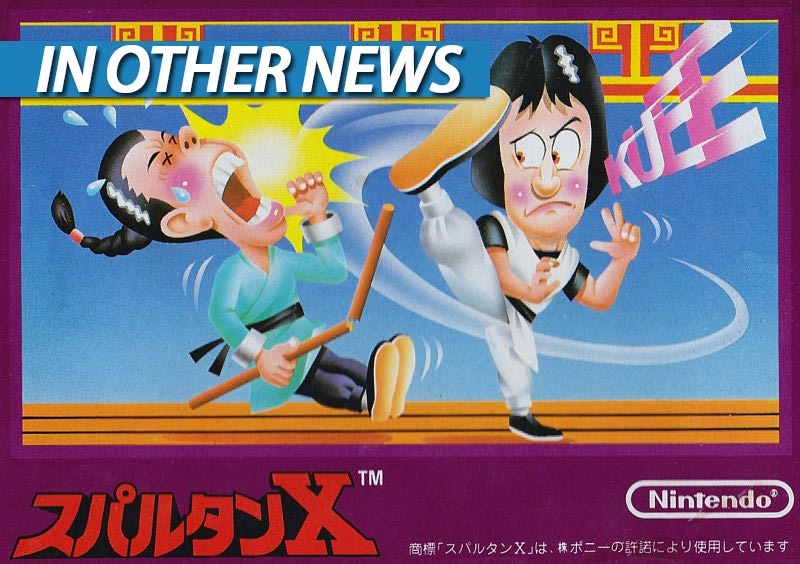 There is no problem in life that can't be caused or solved with some good old-fashioned violence. The NES had plenty of games featuring said gratuitous carnage, but only a precious few of them relied on fists and kicks to really deliver a message of pain in those 8 bit days. Back when I had a Golden China, the 64-in-1 cartridge plugged into it housed one of my favourite brouhaha games: Spartan X.
Known as Kung Fu Master everywhere else, Spartan X had an easy setup: Button A threw lightning fast punches, button B dealt out kicks as if they were on an assembly line and each blow was accompanied by various yells that Bruce Lee would be proud of. Players had five floors to conquer, needing to master timing and spatial awareness as each reset of the game once completed resulted in more difficult waves of enemies popping up. Brilliant stuff back then.
The best bit here? Kung Fu Master was originally released as a tie-in to the criminally underrated Jackie Chan movie Wheels on Meals, a film which is still home to one of the greatest fight scenes of all time. P-tew P-tew P-tew P-tew P-tew P-tew P-tew P-tew!
In Other News: Ubisoft has really sold a ton of games, Symmetra is getting an upgrade soon and Call of Duty: Infinite Warfare analysed on the PS4 Pro.
Here's the news that we didn't post today, because we were too busy
News
MineCon 2016 is a surreal snapshot of how far the series has come
Red Dwarf XI gets its own game
Vita developer thanks pirates for giving its game attention, turns them into paying customers
Ubisoft is 2016's best-selling publisher
Steam is getting a UI overhaul soon, according to new Steamworks post
Overwatch hero Symmetra to be buffed in November
Isometric puzzler Pavilion out now
Pokemon Go Plus users can now attempt to capture Pokemon using Incense
Stuff
Smash Bros. players shuts down heckler, goes on to win tournament
Game Genie declassified: That summer I played 230 Game Boy games
Perfect Rocket League save gets denied by the plunger
Digital Foundry: Hands-on with COD Infinite Warfare on PS4 Pro
Videos
What's on at The Movies
Monday Box Office Report – THE MAGNIFICENT SEVEN shoot down some STORKS
Watch the trailer for SyFy's Ben Affleck and Matt Damon produced series INCORPORATED
It's starting to rain down in this trailer for TRESPASS AGAINST US
Stephen King's HEARTS IN ATLANTIS to be adapted into a movie
Get your first peek at the POWER RANGERS' Zords with these new character posters
It's go time in this new trailer for BAD SANTA 2
Last Updated: September 26, 2016