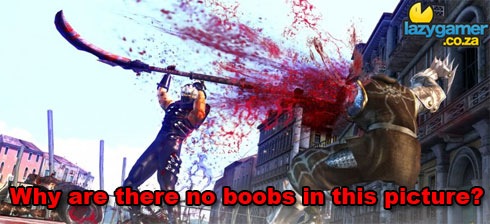 Tecmo's managing directior Yoshiki Sugiyama reckons the next Ninja Gaiden will be something quite spectacular.
While there's been no announcement of the game, given  the franchise's importance to Tecmo, it's a given.
"Ninja Gaiden is such a beloved and important franchise for us," he said to CVG, "and fans expect such great things from the next installment that we need to indulge in a little nurturing."
"If and when we talk about a new Ninja Gaiden, it will be spectacular."
This will be the first ninja Gaiden not to be worked on by the cocky, perpetually sunglassed, pizza-faced Tomonobu Itagaki – leaving many fans wondering if the current Team Ninja will do the franchise justice. Me? I'm mostly wondering if they've  managed to program even more ridiculous breast physics.
I certainly hope 3 ends up being something incredible. Ninja Gaiden 2 – originally a 360 excusive, but then ported to the PS3 and rebranded Sigma – was a bit disappointing when compared to the Xbox original.
Source : CVG
Last Updated: May 5, 2010