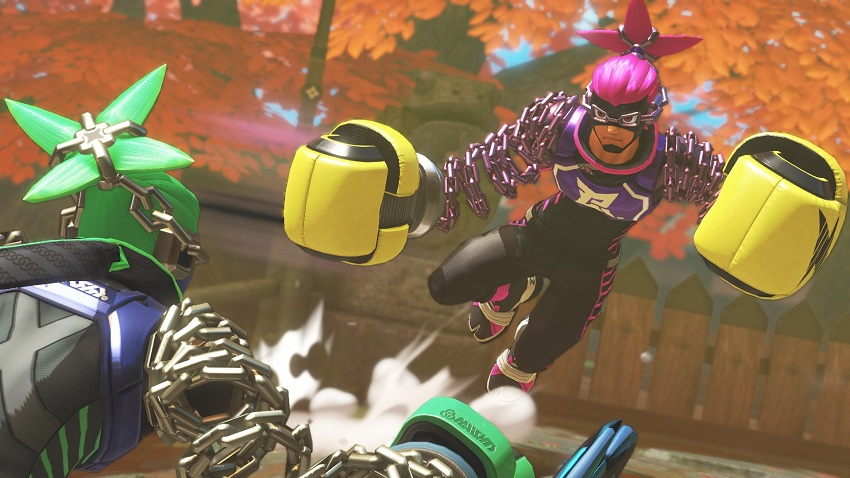 ARMS is launching as soon as next week, which may be surprising given that its two weekend strong beta just wrapped up last night. Unlike the Splatoon 2 testfire which predated the game's release by a few months, ARMS' global testpunch was very literally a last chance for Nintendo to test out some service before launch. It was also a first time everyone could get their hands on the fighter, and try out all sorts of different arm and character combinations. Too bad everyone just has such poor taste in picks.
Nintendo have been dolling out some stats regarding the beta, including which character claimed top spot as the most picked. Not Ribbon Girl, not Min Min. Ninjara took top honours, with players seemingly enjoying his combination of brutal counter-attacking and flashy mid-air dodges over pretty much anyone else. He claimed the most picked spot during the first weekend, and bested out the rest overall. But he faced some stiff competition from a later arrival.
Twintelle was only introduced this weekend, but my goodness what an impact she made. Using her hair instead of her actual arms, Twintelle was by far my favourite, most successful character in play. Her bullet-time styled special ability coupled with her freeze and arms deflecting umbrella armaments were just the perfect combination. It allowed me to redirect foes into my strikes, and keep my arms charged while gracefully avoiding damage. I never came close to a perfect match before Twintelle, but with her it was almost comically easy.
Does that mean Nintendo is going to tweak her? Considering her popularity during just this weekend alone (she finished second overall), maybe. But there's a lot of the meta Nintendo can mess around with before ARMS launches next week.
Last Updated: June 5, 2017