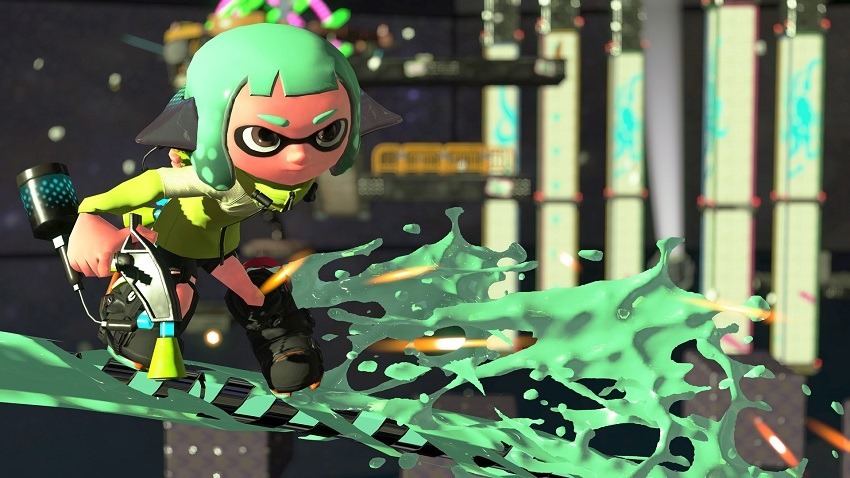 Splatoon 2 is just over two weeks away from launch, which makes the timing of its finally Direct pretty much perfect. The 30-minute presentation was a quick recap of everything you might have been expecting from the sequel, along with a host of deep dives into gear, weapons, game modes, SplatFests and more. Oh, and we got a good look at the replacements for Callie and Marie, and Marina and Pearl are looking up to the job I'd say.
First off, Inkopolis. The shared social space will once again play host to a variety of shops and stalls, all of which contribute in some way to your play. Gear shops will help you outfit your inkling in stylish clothing, with each piece containing some sort of ability. These abilities can be chopped and changed by visiting another vendor in the city, without the randomness of Spike's drops from the first game. Now if you want that faster respawn timer or roll after you launch onto the map, you can just buy it. Easy.
Inkopolis also has a bunch of mini-games for you to play (like an Inkling Dance Dance revolution), it's own version of the now defunct Miiverse to keep creative doodlers happy and a new food stall that helps you increase certain attributes like experience gain for a limited time. It's a more robust area than the initial title, and should have a bunch of secrets Nintendo hasn't yet spoiled.
Online play is still very much the bread and butter of Splatoon 2 (although some brief looks at the single-player Hero mode and co-op Salmon Run were fun too), and that's even more pronounced in Ranked Play. Ranked will now feature three modes of play, including the standard Turf War, and point control and movement mode similar to Overwatch's payloads escorts, and a neat spin on capture the flag (the flag is a weapon that looks pretty deadly). Each mode will have its own rank, meaning you can be pretty adept at one and completely terrible at another. You'll get matched accordingly, and level up based on your performance.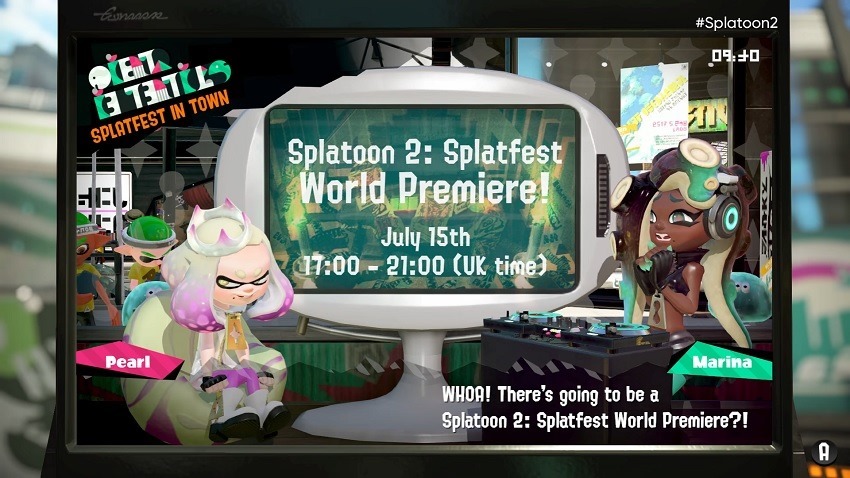 Leagues take this to another level. Here you can form teams with friends and battle in limited-time tournaments for the tiered prizes. It's like Ranked Play except each time a League ends, your rank in said mode resets to zero. You can pair up with a friend and search for other pairs online, or take on a full team of four to properly maximize your teamwork.
Teamwork would be nothing without voice-chat though, and Splatoon 2's launch is going to be the first time we get a look at Nintendo's strange smartphone-based online interface. Nintendo Switch Online is an app that will launch alongside Splatoon 2 and host SplatNet – essentially your hub for hosting custom and private games, initiating voice chats with friends and checking out a bunch of useful stats from your game time. It's going to be the first chance at seeing just how this absurdly complicated interface works out, and likely going to help shape the future of online Switch play.
The #Splatoon2: SplatFest World Premiere download will be available on the eShop later today! Try the game out on July 15th from 3-7pm PST! pic.twitter.com/PpD69rPLta

— Nintendo of America (@NintendoAmerica) 6 July 2017
Aside from that, the Direct introduced a bunch of new weapons and maps, along with plans for a year of free content. Nintendo also announced that the themed SplatFests would return and stick around for two years now. The first is taking place before the game launches, with the Ice-Cream vs. Cake debate setting off the enjoyable events in typical fun style.
Splatoon 2 is out on July 21st exclusively on Nintendo Switch. You can catch up on the entire Direct above.
Last Updated: July 6, 2017