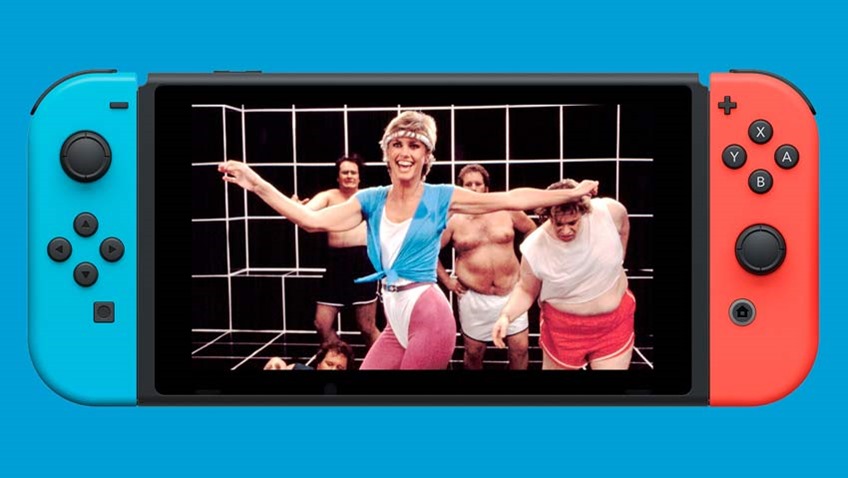 The beauty of the Nintendo Switch is that you can use it just about anywhere you want thanks to its portable design. You can play it while you're on the porcelain throne or you can even jam a few games in bed. In my case, I adore using the device while I'm decked out in nothing but three-day old underwear, my disgusting frame slowly oozing out over a couch while I try to balance an entire chocolate cake on my chest and I wiggle my lips towards the long-ass straw connected to a vat of American soda.
That's…that's probably not healthy, and Nintendo knows it. So much so in fact, that the company is looking to spin the Nintendo Switch off into a new direction that focuses on physical wellbeing and a little bit of cardio exercise. At least I think so? See for yourself in the new trailer below for whatever the hell this hula hoop thingy is that Nintendo is teasing:
According to the video above used by trendy young people who clearly don't have time for Mario Kart roof parties, the device appears to be a flexible hoop that one JoyCon controller slots into, whilst the spare gets attached to your thigh. It's very very similar to a Pilates ring, a piece of exercise kit that is generally used to do some quick cardio across a wide variety of muscle groups.
Knowing Nintendo, there'll be some sort of mini-game function added to this as well, to encourage users to not only get fit but to have fun. Or in my case, to get stupidly competitive because I'll be damned if Geoff is going to hold the top score as the second-fittest staff member around here. That title belongs to me dammit. Whatever this product really is, Nintendo will be fitness device into a new presentation on September 12.
Now if you'll excuse me, it's time to get physical and see if I can break my record for Bar-One curls. It's amazing how it gets lighter the closer it gets to my mouth.
Last Updated: September 6, 2019