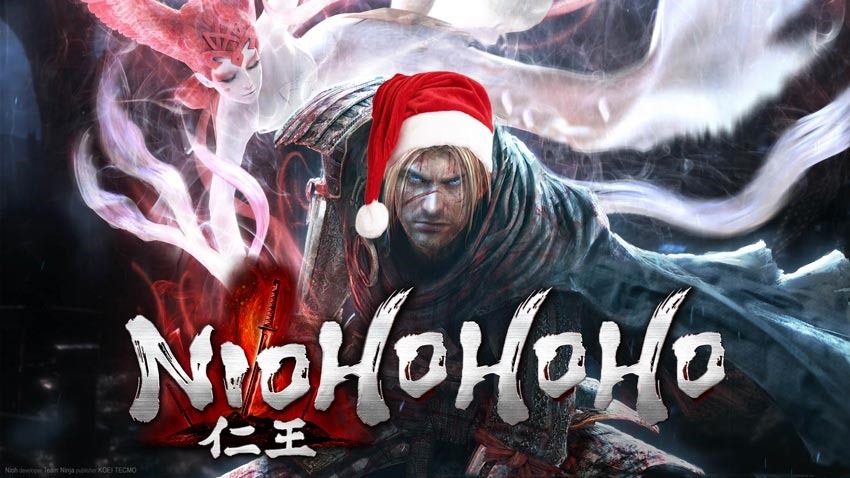 Nioh is by all accounts so far, a proper return to form for developer Team Ninja. Years before Dark Souls was a twinkle in your grandad's eye as he recounted blistering battles with Dragon Slayer Ornstein (BOY I TELL YA WHAT), there was Ninja Gaiden. A game series that set the original bar for gameplay that hinged on risk and reward. And buddy, it's good to have that Team Ninja back in action with Nioh.
A properly difficult yet exciting game, Nioh has intensity turned up to 11 so far and its about to go even further beyond for the diehard fans who want even more of a challenge. I'm also imagining that such people are fans of leather outfits and ball-gags, but I'm not judging. In a recent livestream via Gematsu, publisher Koei Tecmo revealed a slew of free downloadable content that'll be out in March and beyond.
Next month will see high-difficulty missions added, ten of which will apparently incorporate a boss rush atmosphere. April will see PvP modes implemented alongside the "Dragon of Tohoku" DLC which will also drop in:
New weapon types
New scenarios
New characters
New guardian spirits
New yokai
New stages
This will be followed later in the year by the "Japan's Best Warrior," and the "Peaceful and Tranquil" DLC downloads. If you're still on the fence about adopting Nioh at any point ever, Umar's blistered thumbs still managed to hammer out the following praise for the game:
It's an absolutely engaging game that's soul-crushing, yet addictive and satisfying. It's still early days, but if it manages to keep up this pace, and the story doesn't completely fall flat, then we could be looking at one of the best games this year and Team Ninja's explosive comeback.
And now we're going to shove him back in his cage to finish the DLC. No supper until we see Hino-Enma defeated on max difficulty without the use of a Sloth talisman.
Last Updated: February 21, 2017