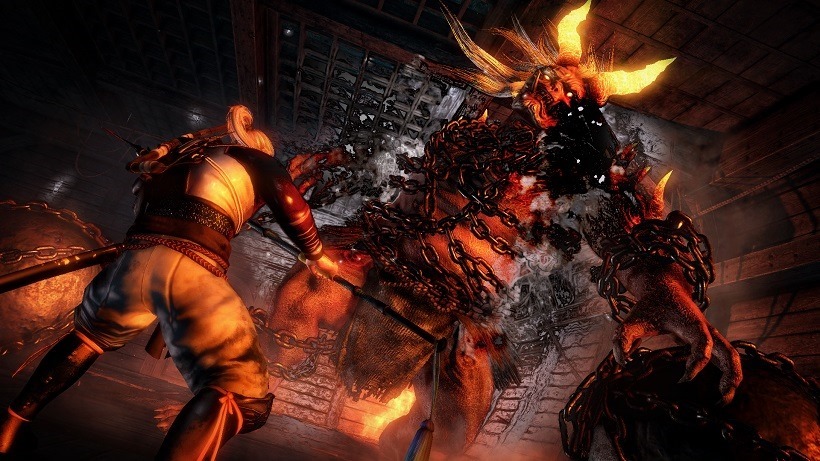 If you're like me, you probably don't dip your feet into the pool of Souls games that From Software has graciously offered fans over the past few years. While I loved my time with Bloodborne, I feel like the Dark Souls games are just too inaccessible for me. I crave that unrelenting difficulty though, which has me looking at samurai inspired Nioh very closely. Especially after witnessing just how tough boss battles an be.
In a Souls game, bosses are really the climatic bits that push the overall experience to new heights. Since Nioh is taking heavy inspiration from the Souls series, it's unsurprising to see that principle replicated. Polygon got some hands-on time with the RPG at TGS, showing off a vicious ice demon boos fight that looks gruelling. It reminded me of my many, many deaths in Nioh's previous Alpha, making me both anxious and afraid to play.
Still, I do love the attention to delicate, smart play at work here. Nioh gives you many tools to juggle with in combat. The stance of your sword, particular items and weapon buffs all factor into every fight. And it's not just the more prolific bosses either. Just like a Souls title, every fight is important, and the slightest misstep could see you falling to even the weakest of foes.
It's certainly not a game that's going to scratch an itch for relaxation, but it's also the closest thing Souls fans have to a new game right now. It's also good to see another studio seemingly nail the formula so well, since variety in this space is somewhat lacking still. We'll know for sure if it's actually good enough to inherit the mechanics that it does early next year, when Nioh launches on PS4 in February.
Last Updated: September 21, 2016