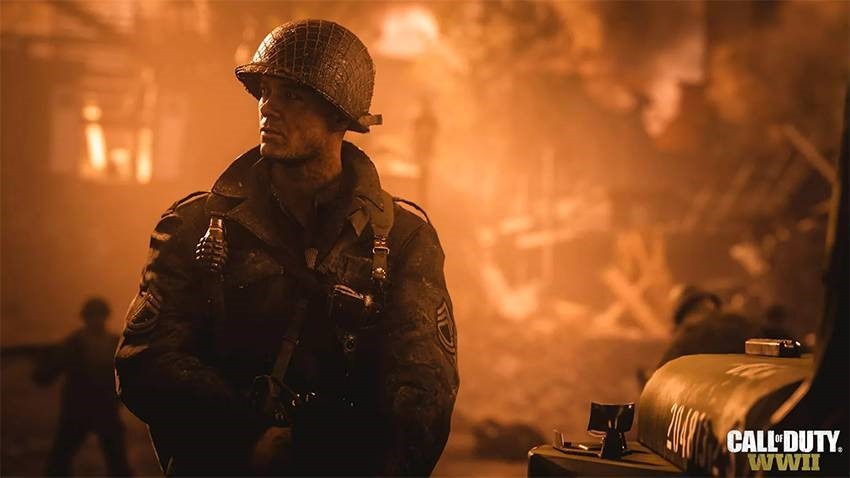 Call of Duty: WWII is going back to its roots. As you saw from the worldwide reveal and its associated info dump on Wednesday evening, this year's Call of Duty is aiming for authenticity. The team at Sledgehammer has spent the past two and a half years researching, trying their hand at creating the most true-to-life representation of the second Great War.
One interesting way that the game goes old school and aims for authenticity is in its healing system. Since Call of Duty 2, all you needed to do was hide behind cover for a bit for your health to starts slowly regenerating. That's changing in Call of World War Twoty.
Speaking to Polygon, Sledgehammer's Glen Schofield said that every bullet counts. That applies to not only the ones that will be flying at your head, but the ones you'll be shooting too.
"You have to worry about every bullet. You're not the superhero. You can't just stand there taking seven bullets, ducking, shooting again," Schofield said. "It's refreshing for us to deal with recruits who aren't Tier One warriors, to show that vulnerability. They're naive. It's been a really cool challenge creating this different kind of gameplay."
No regenerating health, and no ammo packs just lying about everywhere. Speaking to Gamesradar+, Sledgehammer's Michael Condrey said the game had a strong focus on working alongside squadmates, so it's likely you'll have to rely on a medic to heal you, and your other squaddies to keep you supplied with ammunition.
"Part of being this squad and working together was about helping each other out in a very different way than in previous games," Condrey said.

"This is [you] relying on your squad, and so that was a mechanic where you can rely on your squad members to help you, and in that case – when you're low on ammo – your squad can share ammo. Certain members of your squad have certain attributes that can help you, and if you are in proximity to one of your squad members, and you need their help you can… it's an active ability."
There's a real focus, it seems, on fellowship that forms in squads – and the inherent vulnerability of war during dire times. It's quite a change for Call of Duty, and one that we'll have to wait until November to see.
Last Updated: April 27, 2017