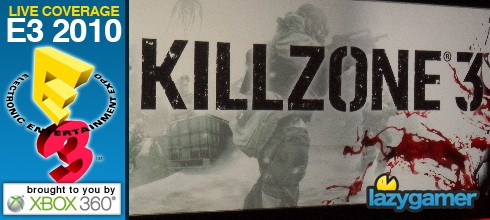 Changed to pen and paper and kept going after my battery died, hopefully I didn't miss anything huge out.
Jack kept on talking about the great sales they experienced over the last while and then after a while we move onto the new innovation, PlayStation Move. The model on screen is holding 2 Moves to play the archery game which brings up the worry that we are all going to need 3 controllers to play all games. 2 Moves and a sub-controller.
Peter Dille comes onstage and carries on talking about innovation especially when it comes to the PS Move which has perfect 1 to 1 tracking bringing you never before seen accuracy in motion control.
The Move has 3 motion sensors inside along with the ubiquitous glowing orb which gets picked up by the PS Eye.
Now we have a video of all the developers praising the PlayStation Move and the developer from Farsight has stated that the PS Move is head and shoulders above it's competition when it comes to accuracy and tracking.
Now Peter is back and talking the Move and the fact that it has buttons, he doesn't want to stir the pot but you really do need buttons on virtually all games and this gives the Move a huge advantage over the competition.
There are now over 40 developers working on Move games and now we are going to see one of them.
Sorceror, Nick has already posted up an article on this one so click here to read that. Watching it live was awesome and that's a game that is a must buy if you are a Harry Potter fan or have kids.
Now Peter's talking about sports and introduces Andrew Wilson from EA to demonstrate Tiger Woods 11. Andrew drills into us that golf is all about the feel and accuracy of the clubs and nothing can compare to the PS Move in this regard. As you twist your arms or move around Tiger is mimicking you on screen in perfect timing.
I don't see any lag throughout the 4 shots (5 if we include the first mulligan) and I just don't see the Wii Motion Plus or Kinect beating this for accuracy.
The Move upgrade for Tiger Woods 11 will be DLC when the Move is released and though no price or lack of price was mentioned I would expect it to be free.
He gives us a quick video demo of Hero's on the Move which is an upcoming game with 6 Hero's including Ratchet, Clank, Jax and 3 others which I didn't get down in time. The game looks cute but I don't know how it's going to integrate with Move at all.
Sony also announces a huge marketing join up with Coca Cola which will see Sony's product displayed on coke cans in over 130 million packages later this year. Peter seems very chuffed about all of this but really do we care that much?
And now the moment we were all waiting for, Kevin Butler strides onto stage. He goes on an awesome rant about gaming not being about platforms or competitors but being all about the games in the end. It was great and you can watch it here right now.
The crowd went wild and he's off again.
Move will be released in the EU on the 15th of September, US on the 19th and Japan on the 21st of October. I hope we fall under the same EU date of the 15th.
The Move itself will be $49.99, $29.99 for the subcontroller and $99.99 for a bundle that includes the Move, the Subcontroller, a Sports Game and the Eye.
There will also be a $399 PS3 bundle that will come with the PS3, Eyetoy, Move and subcontroller as well as the Sports Game.
There will be 15-20 games on the launch and up to 40 by the end of the year. We get some video footage of Time Crisis which looks absolutely awesome.
They go on for a while about the PSP and show us their new PSP advertising campaign featuring Marcus who is just like a mini Kevin Butler. Check out the website here
We also get some idea of Invizimals which is an upcoming alternate reality PSP title which looks pretty cool. Then the big PSP news is the upcoming God Of War: Ghost of Sparta which didn't show us any gameplay but we did see Kratos standing on a mountain looking as pissed as always.
There is going to be 70 new PSP titles by December being led by a new title 3rd Birthday which looks awesome.
There are now 50 million users on the PSN making it the most connected gaming network around stretching over 50 countries.
The Tester season 2 casting starts today, check on PSN if it's applicable in your region.
Home now has over 100 free games online and the official Sony E3 booth is available in home in full as off today. Go check it out to check all the official E3 trailers.
Peter now goes on to tell us that the PlayStation is all about content and Sony are bringing the content.
We get a quick preview of what is capable in LittleBigPlanet 2 where people were able to create full games at their offices in just 24 hours without any instruction at all. It looks awesome but the demo is pretty poor.
We then get to hear that online gaming on the PSN will stay free forever but they announced a new service called PSN Plus (+) that will cost $49 a year and will give you early access to demo's, beta's, free games and other stuff. Still need to find out more about this.
The first free game is Wipeout HD and 2 mini's.
Okay time to run into the meeting… Part 3 coming up later.
Last Updated: June 16, 2010