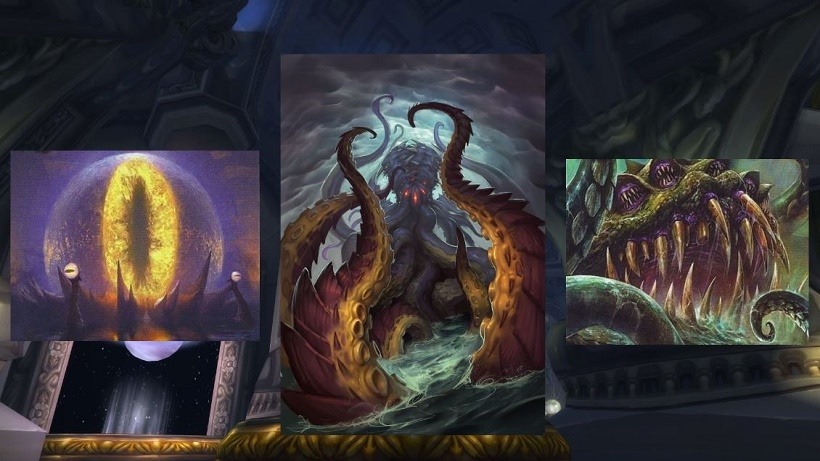 Hearthstone is getting an expansion in the near future, and it's filled to the brim with dozens of brand new cards. Not all have been unveiled just yet however, but Blizzard are slowly pulling back the curtain on Whispers of the Old Gods, and it's looking to be a fantastic addition to their stupidly addictive card game.
Last week, we learnt all about C'Thun – a gigantic eyeball of a chap. That old god card has an interesting mechanic in that it can be buffed significantly by others (dedicated cult followers of course), even though it's not in play, or even in the player's hand for that matter.
The next old god card Blizzard have unveiled, N'Zoth, has an interesting mechanic too. But first, here's a quick overview of its history:
Very little is certain about N'Zoth (pronounced nuh-ZAH-th)—most beings on Azeroth don't even know its name, much less what it looks like. Scraps of obscure lore claim that the Old God has been imprisoned beneath the darkest depths of the ocean for millennia beyond counting. There are also whispers that N'Zoth desires nothing more than to twist what was once noble and pure to its own inscrutable ends. Ultimately, most of what is "known" about this most insidious of beings is mere speculation.
Still, looking at the evidence, it seems like N'Zoth feels a compulsive need to redecorate, and has the aesthetic sensibilities of someone that's super into skulls, black leather, and knee high platform boots. Emerald Dream? How about Emerald Nightmare. Neltharion the Earth Warder? Nah, let's go with DEATHWING THE DESTROYER! Prissy Night Elf nobility throwing a hissy fit? BAM! You get a snake body andactual hissing! Yes, it's rumored that N'Zoth was involved with twisting the Emerald Dream, corrupting one of Azeroth's most powerful dragons, and mutating the Highborne into the despicable Naga . . . but it's just getting started.
Based on the lore, N'Zoth is one of most powerful old gods. Here's what its capable of in card form…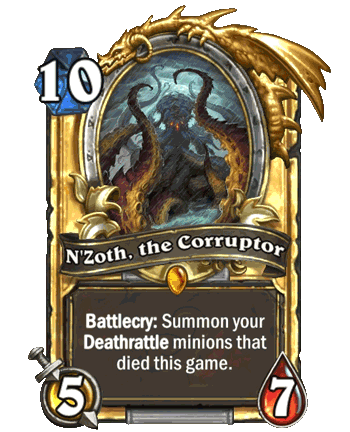 I quite like that! Though, seeing as I'm not at all a Hearthstone pro, I have no idea if N'Zoth's card is actually useful or not.
Still, I think we'll see some interesting deathrattle decks being made thanks to this old god. Speaking of which, here are other newly unveiled cards that fit the part nicely…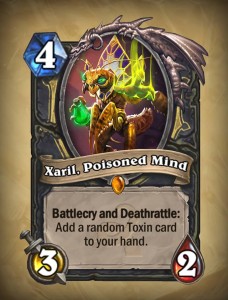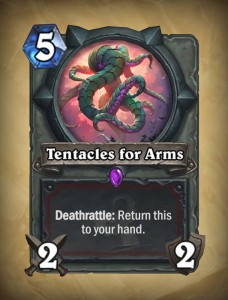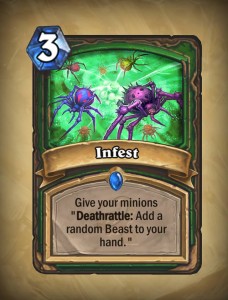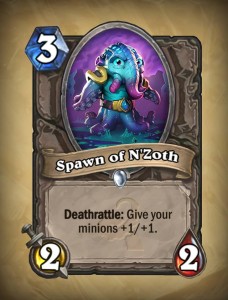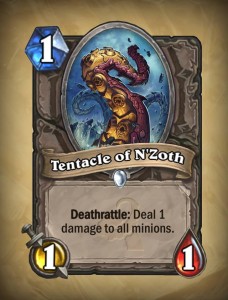 My body is so ready for Whispers of the Old Gods! I've begun grinding gold at an alarming rate, and will be able to open up quite a few packs when the expansion ships in a few weeks.
What about you? Are you looking forward to all these new cards? Will you be dropping proper cash to get as many as you can?
Last Updated: March 29, 2016