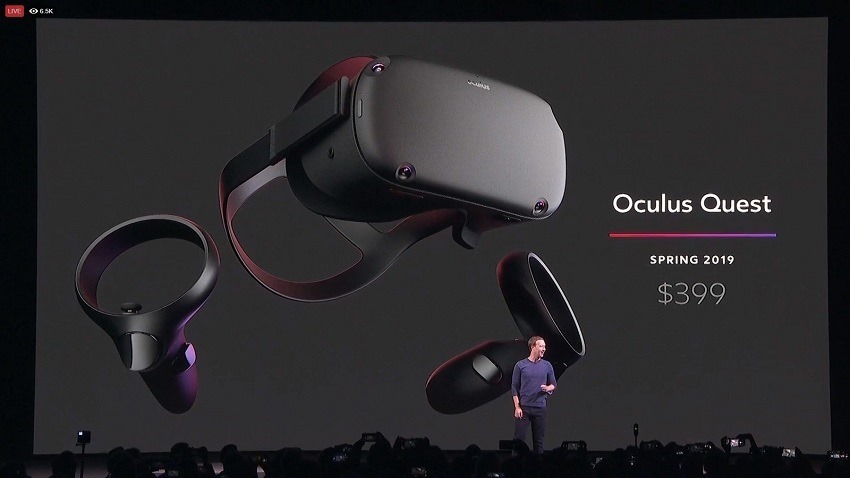 Earlier this year Oculus made a big bet on the future of VR: all-in-one, wireless solutions. It embodied this idea with its newest headset, the Oculus Go. Promising smartphone quality VR without the need for a phone or any other peripherals, it somewhat succeeded too. Oculus understands that the real barrier to entry right now is the cost of VR, which often doesn't lie with the headset itself. The Rift, for example, requires a powerful PC and additional sensors just to get working. HTC's Vive is an expensive headset that also needs a PC, and then an additional $300 adapter just to go wireless. It's prohibitive, which is why the new Oculus Quest is such a drastic leap forward.
Revealed last night at Oculus Connect 5.0, the Oculus Quest is the full product vision for a project Oculus has been working on for over two years now. Previously codenamed Santa Cruz, the Quest is an all-in-one VR solution that is wireless and requires no additional hardware to run. All processing is handled by internals in the headset itself, which Oculus is promising will be close to Rift-like VR in practice. Considering that Rift requires a 9-series Nvidia GPU to run, it's a bold claim to make with just hardware that's strapped to your face. But if it works, it could herald the next generation of mainstream VR.
The Quest is packed with powerful features. It contains four cameras on the front of the headset to perform inside-out tracking, which ditches additional unconnected cameras required for room-scale VR. This also gives the Quest the same degrees of freedom as the Rift, topping at 6 individual axes that it can track. The Oculus Go, by comparison, could only do half of that. Each eye features a large 1,600 by 1,440 resolution to drive pixel quality, while the Oculus Rift controllers have been tweaked slightly in the shape (the hand-tracking loop moves upwards now) to work with the new motion sensing.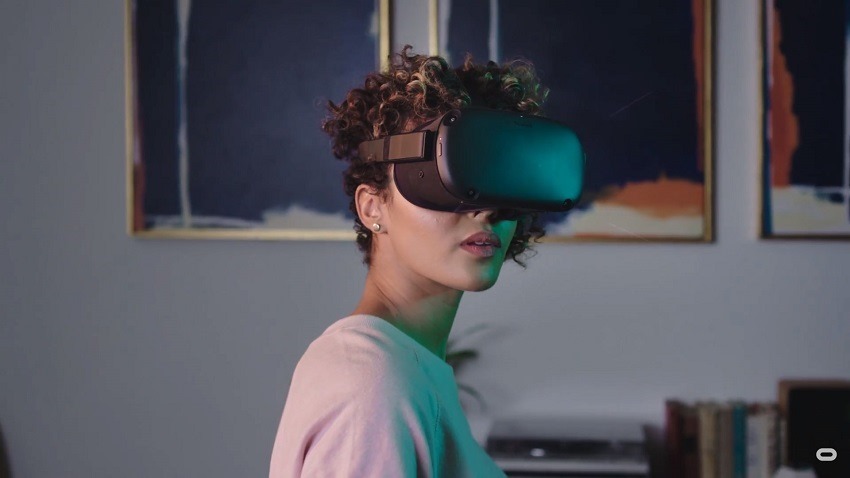 Oculus revealed more than 50 games that will launch with the Quest in Spring 2019, including favourites such as Moss, Robot Recall, SuperHot VR, Budget Cuts and the new Darth Vader series from Industrial Light and Magic. This really pushes the idea that games you'd traditionally play on a Rift can now be taken anywhere with you – no wires and hardware required.
Which all makes the price even more eyebrow-raising. Oculus is promising this new step in VR for just $400 – which rings in at around the price PSVR used to be. That required a PS4 to run, which already makes the Quest a better value proposition. But it drives a stake into the heart of all current VR solutions. The HTC Vive can cost in excess of $800, and still requires a similarly priced PC and a $300 adapter for wireless functionality. In that race, the Quest just makes it look archaic.
Of cours,e actual performance and the quality of the VR experience will need to be tested when the headset launches next year, but it's clear that VR is about to see a new dawn. Without the fuss of setup and the hardware requirements holding it back, this really feels like the next generation for mainstream VR.
Last Updated: September 27, 2018