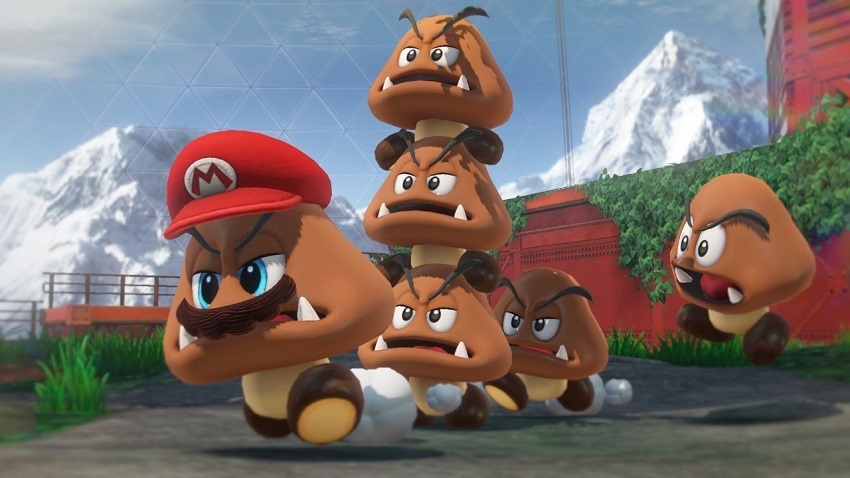 Super Mario Odyssey was the best thing I played at E3 this year – the second year in a row where Nintendo have just knocked it out of the park with an exclusive. The intrepid red-clad plumber has never felt better to control and navigate around an open-world, with an assortment of platforming and puzzles to keep you peering around every corner out of curiosity. That sort of exploration doesn't need an overbearing hindrance, which is why "Game Over" isn't going to be a thing in this year's big Switch exclusive.
The E3 demo showed off just how Odyssey deals with Mario's death. An explosion of gold coins accompanies your short trip back to your last checkpoint, making your mistakes little more than an annoyance. There's no traditional lives or 1-up mushrooms, and hence no situation where Odyssey will actually end due to your shortcomings. Instead, you'll just lose coins, which are pretty abundant in the many different worlds of Odyssey.
マリオの体力が0になったり、奈落に落ちると、持っているコインが10枚減ってしまいます。ただし…!いくらミスしてもGAME OVERはありません。 pic.twitter.com/6oEia6LcVr

— スーパーマリオ オデッセイ (@mario_odysseyJP) 4 July 2017
Even if you don't have 10 coins to spare, Odyssey won't feature a concrete fail state. There's no indication yet of what other uses coins have though, which could mean that there is some sort of penalty for being too reckless around a Goomba. Odyssey's producer, Yoshiaki Koizumi, explained to Polygon at E3 that this design choice was made to encourage exploration, rather than gate it behind some sort of numerical difficulty.
"We also wanted people to be able to, you know, you get into a kingdom and you can just kind of continually keep going through that kingdom without being pulled out, so that was why we kind of wanted to get rid of the lives idea."
Super Mario Odyssey is out exclusively on Nintendo Switch this October, and is just looking to make Game of the Year discussions that much harder.
Last Updated: July 6, 2017