With the insane amount of work he does in front of the screen, while still finding the time to turn himself into a mountainous slab of muscle, you would be forgiven for thinking that Dwayne "The Rock" Johnson is superhuman. Writer/director Shane Black (Kiss Kiss Bang Bang, Iron Man 3, The Nice Guys) probably thinks as well, which is why he's been saying for a while that he wants the Fast & Furious actor to star in his long gestating feature film adaptation of classic pulp hero Doc Savage.
Funnily enough, Johnson seemed to want the same thing, and now the two men have finally put pen to paper and made it official! Johnson posted the news – as he so often does with these things lately – on his Instagram account, and also gave a breakdown of why he was attracted to take on the role of this "f*cking hilarious weirdo!".
As Johnson correctly stated, Doc Savage is a classic character that is really the progenitor of all superheroes, and a large influence for arguably the most well known examples of the genre. Created by publisher Henry W. Ralston, editor John L. Nanovic and writer Lester Dent, Clark "Doc" Savage originally appeared in comic strips in several American pulp publications in the 1930's and 1940's. He would become immensely popular, bridging out to all forms of popular entertainment media from radio plays to books and films.
The character has been used in several other stories in various media formats right up until modern times (including a crossover with Batman back in 2009), and there are still novels being published from Lester Dent's work up until this year, so it's not as if he's ever left public consciousness. However, he's obviously not as much as a household name as the big blue boy scout he inspired, although I'm sure Johnson and Black would want to correct that.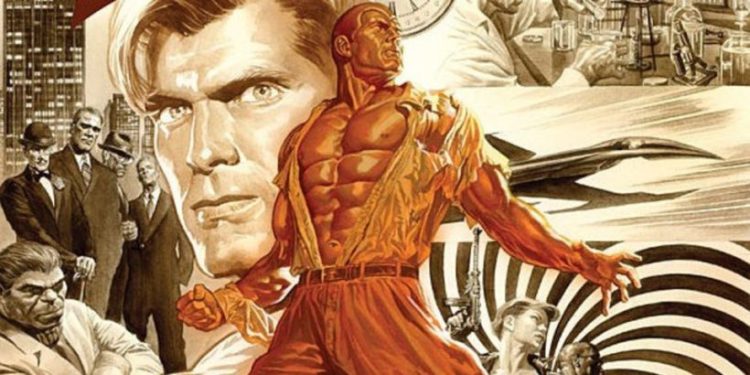 Just when they will get the chance to do so though, is another story. Black just recently delivered The Nice Guys (which you can still win tickets to go see, by the way) and his Predator sequel/reboot up next. Johnson, on the other hand is up to his beefy neck in projects: Central Intelligence releases soon, he has his TV series Ballersgoing, he's just finished work on the Baywatch remake, has recently started filming Fast 8, still has the Jumanji remake on his plate, not to mention returning for another Journey To the Centre of the Earth sequel, and is still doing the superhero thing for DC's Shazam. So yeah, that's one seriously full plate.
Whenever it does happen though, I'm actually crazy excited for what Black and Johnson can do with Doc Savage. I've always been a huge fan of these pulp characters like Doc Savage, The Shadow and The Phantom, and would love for them to get the proper Hollywood treatment they deserve after laying the groundwork for so many popular heroes/adventurers who have ruled in their wake.
(Article originally appeared on TheMovies.co.za)
Last Updated: May 31, 2016