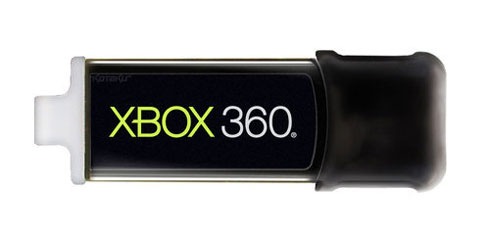 If you're the sort who just has to have officially licensed peripherals and paraphernalia, then you'll be rather happy to know that Sandisk has started shipping the ridiculously overpriced Xbox 360 Flash Drive.
What reasons are there to get this premier, high-priced drive over other suitable ones?
Well..this one's black, is adorned with the Xbox 360 logo and is apparently pretty fast – but other than that? Not a damned thing.
The drives will be available in two variants, pre-configured for use on an Xbox 360; an 8gb and a 16gb – priced at $35 (R268) and $70 (R536) respectively. Thankfully this time around Microsoft isn't locking out other manufacturers drives, so if your generic one is fast enough, it'll work just fine.
More interesting than that though is the choice of colour scheme.
While the Elite has recently been made the de facto SKU for the "core" gamer, the majority of Xboxes are all white, as are the peripherals. Does the fact that this thing's black portent a new black Xbox 360 slim, likely bundled with Natal – one that'll ship without the memory card slots seen on current models? Microsoft is likely pretty aware that most people like their stuff to match – so I reckon that's a pretty damned likely scenario.
Last Updated: May 6, 2010