This article was sponsored. The editorial and content is entirely created in-house, unless otherwise specified.
PC gaming is a unique space. On the one hand, it's the domain of some of the most hardcore gamers – from esports professionals to 4K/60fps fanatics, PC gamers are typically the most hellbent on getting peak performance out of their rigs. But PCs are also used for other activities beyond gaming. Because of the versatility of PCs, it's often the entry point for new gamers who can load up games onto their rigs and see what all the fuss is about. HP Omen has revealed a new gaming family of devices that's ideal for anyone from the occasional gamer who wants to up their experience to the true diehard fans who want the best possible performance.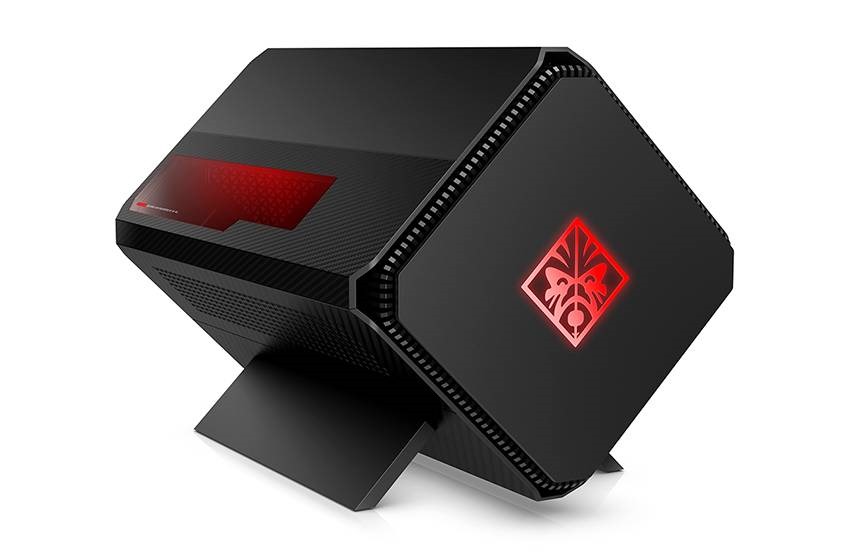 The starting point is The Omen Accelerator. According to HP, the Accelerator can transform a Thunderbolt 3 enabled PC struggling to deliver fluid gameplay into a gaming powerhouse. This is ideal for those weekend warriors, letting people be professional-by-day, gamer-by-night. It's essentially a dock that you can use to boost your normal PC into a high-powered gaming PC – sounds pretty cool! Here are some of the details of the device:
Available preconfigured with NVIDIA or AMD Graphics card.
Configurable with a 2.5" 1TB HDD or 256GB SSD10, or offered as an empty enclosure with a 500W power supply.
Thunderbolt-certified to ensure compatibility across a range of HP PCs.
Single cable docking with 60W charge back to the PC, so you can connect power for your notebook and a range of gaming accessories without worrying about plugging multiple cables.
Easy-access door so you can change out graphics cards, hard drives, or SSD with minimal effort.
Generous port selection including 4 USB 3.0 type A ports and 1 USB 3.1 type-C™ and RJ-45 for networking.
Of course, some of you need your PC to be a bit beefier all the time. As a result, the HP Omen Desktop has learned from its Omen X products and offers a gaming tower with ideal usability and enhanced functionality. As you might expect, the Omen desktop range uses primarily industry standard parts, allowing for easy upgrades and new hardware combination. However, this isn't your standard LEGO set of a PC as the Omen by HP Desktop leverages improved cooling to allow gamers to push the system's limits. Plus, I'm just glad that fans can opt for NVIDIA or AMD, so the Omen isn't choosing sides in the permanent PC wars of red vs green.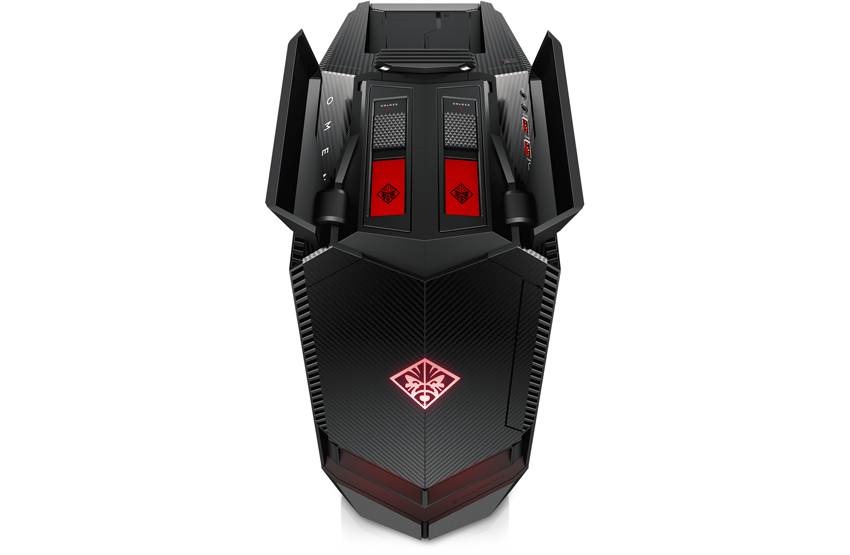 There are a variety of options to choose from, but the HP Omen Desktop comes with up to dual NVIDIA GeForce GTX 1080Ti (SLI) or dual AMD Radeon RX 580 (Crossfire) pushing out incredible visuals on the latest games with resolutions exceeding 1080p. Of course you need some horsepower behind those pretty pictures, which is why the Omens also come with 7th gen Intel Core i5/i7 CPUs with unlocked options for overclocking, or overclockable AMD Ryzen CPUs – ideal for massive multiplayer experiences or serious multi-tasking. I think I might need this just to keep all my Chrome tabs open! Added to this is thermal engineering with edge vents and optional liquid cooling, and even additional thermal headroom for overclocking. Players can choose optional PCIe SSD or SSD plus HDD storage options for quickest responsiveness. Beyond all the hardware, the Omen Command Center also allows players to improve CPU performance on the fly and even fiddle with network traffic to reduce latency in online games.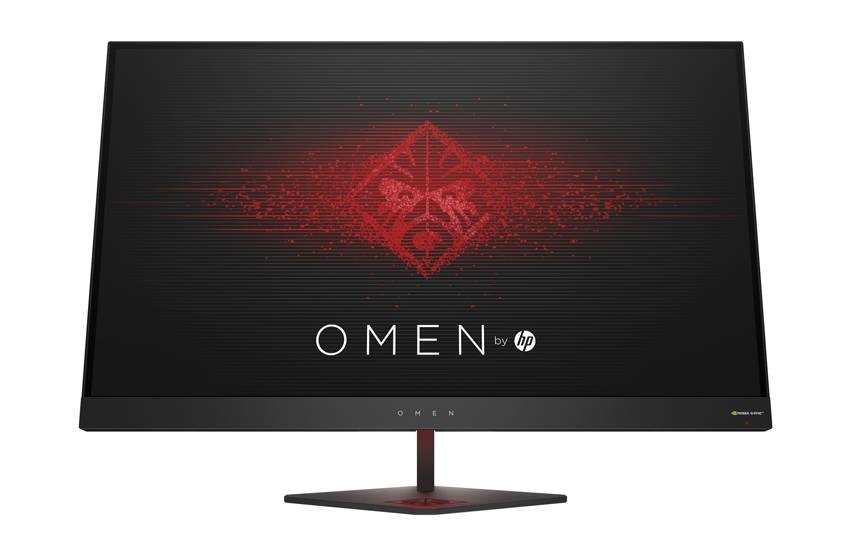 In order to see that improved performance, you'll probably need a better monitor, too. I still laugh at all the people raving about their amazing upgraded consoles who are still using their old TVs and monitors. No one will be laughing if you upgrade to an HP Display, though. It comes in two forms, the Omen 25 which is optimised for 1080p resolution and competitive frame rates and the Omen 27 which is built for performance gamers and esports athletes. The Omen HP 25 can deliver a response time as low as 1ms to reduce lag and ghosting, plus it has 144Hz refresh rate – twice as fast as a standard 60Hz panel – for smoother gameplay. It comes with 2 USB 3.0 ports for all your peripherals, plus an integrated cable management clip on the stand where you can even hang your headset so it isn't in the way but is within reach when you need it.
The Omen 27 goes above and beyond. The QHD resolution with 70% more pixels than a full HD panel lets gamers crank up the resolution to above 1080p. More importantly, though, it features a 165 Hz refresh rate, nearly three times as fast as a traditional 60Hz panel. It also utilises NVIDIA G-Sync technology to match the refresh rate of the display to the frame rate output of the GPU, eliminating tearing while minimising stutter and input lag.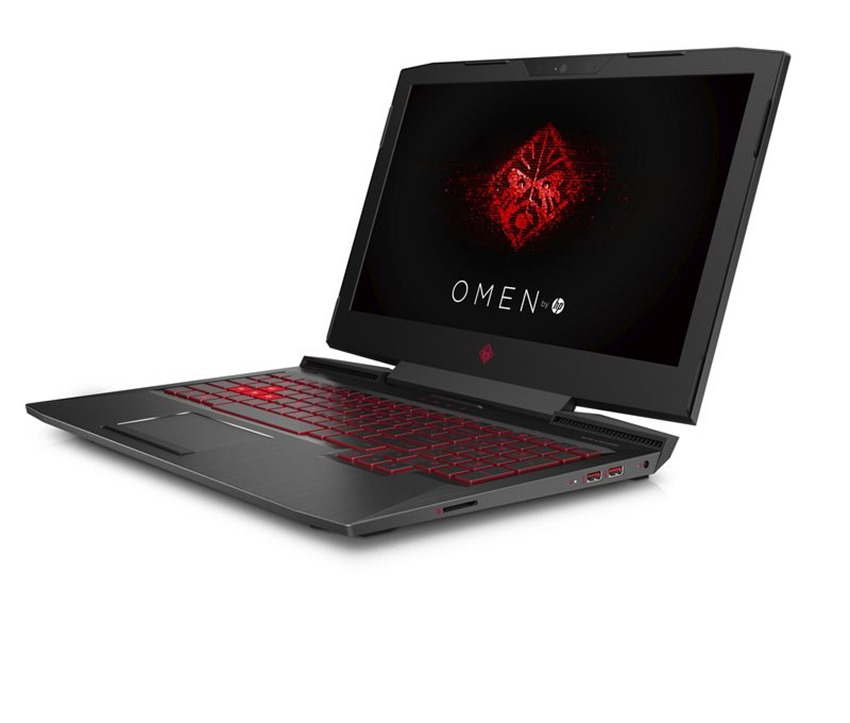 However, there are some gamers among you who don't want the full set up. You don't want a gaming tower and display, you want a gaming laptop that you can move around the house as needed. You might not necessarily game on the go, but you want to be able to play on your desk, or in the lounge, or even at work without any hassle. As a result, the Omen HP 15 and 17 laptops offer high performance in a compact package. The Omen 15 offer high performance with the GTX 1060 to run games at 1080p and beyond while the Omen 17 can be configured with a GTX 1070 to push games at 1440p and beyond. These laptops also come with 7th gen CPUs and high-performance cooling to keep things, um, cool when things heat up in game. Plus, the laptop comes with a Dragon-red backlit keyboard so you can game in the dark. There's even as easily accessible single-access panel to HDD, SDD and RAM for those who want to upgrade their portable rig. These laptops are even configurable for VR gaming if that's your vibe.
Whether you just play games as and when you have time, or you are an esports professional, Omen by HP can help you have the best possible experience. I suppose it's a sign for PC gamers to improve their setup. An Omen.
Omen by HP is one of the main forces behind Rush. It's a bit like rAge, with an esports focus. Rush is running from 21-23 July and the Sandton Convention Centre. If you're in the area or will be in Gauteng during those dates, we'd love to see you there. Tickets are available from Computicket, so if you want to see what it's like to spectate esports in person, or you want another opportunity to LAN with your friends, you can check out pricing on their site. There will be a shiny HP store, so you can buy all of these lovely products there. Also, follow Rush on Twitter and Facebook.
Last Updated: June 28, 2017