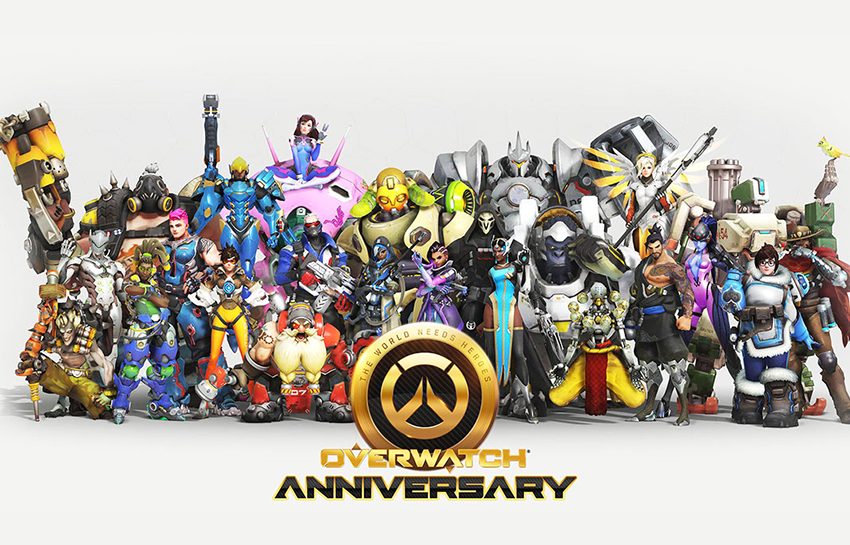 Next week marks two years since the release of Overwatch. Two years during which Blizzard's popular competitive multiplayer shooter won numerous awards, started its own esports league and built up a player base more than 40 million strong. That all calls for a celebration, and we're getting one with Overwatch's second Anniversary event!
Game director Jeff Kaplan made the announcement via a video last night, outlining some of the plans for this year's anniversary. Like with last year's events, we will be getting over 50 new cosmetics items including 8 new Legendary skins and dance emotes. No skins or emotes were shown on the vid, but a recent tweet confirms that Junkrat will be getting a pirate-themed skin. Kaplan also hinted at a certain "dapper gentleman" (McCree?) getting some type of formalwear skin, and it's a safe bet that the new heroes introduced in the last year – Doomfist, Moira, and Brigitte – will be getting some love as well.
Most importantly though, just like last year's Anniversary Event, this year's lootboxes will give players the opportunity to unlock every single cosmetic item from all past seasonal events. Logging on during the event for the first time will also get you one Legendary lootbox which means you're guaranteed at least one legendary item (please let it be that awesome 1980s Zarya skin that I missed out on last year!).
Along with the cosmetics from past events, the limited game modes from all of them will also be making a return in the game's Arcade. These game modes, like Mei's Snowball Offensive or Junkenstein's Revenge, or even the recently concluded Retribution, will be cycled through one by one on a daily basis, so just keep checking back each day to see if your favourite mode is there.
You'll have a brawl!

Past brawls and cosmetics are back for Overwatch Anniversary 2018.

The celebration begins May 22! ?? pic.twitter.com/C58AFSvfOs

— Overwatch (@PlayOverwatch) May 14, 2018
This new Anniversary event is not just about the old modes though, as the game's Free-For-All Deathmatch mode will be getting a short competitive season. Alongside the current dedicated Chateau FFA DM map, Blizzard will also be introducing a brand new map called Petra, which Kaplan says brings some interesting mechanics to it like a central section, holding a mega health pack, which gets more unstable and destroyed over time.
The second Overwatch Anniversary Event will run as from next Tuesday, 22 May 2018, to 12 June 2018 on all platforms. To get even more people to check it out, a new Legendary Edition of the game will also be released on 22 May which includes 15 legendary and epic skins, and even those skins that were exclusive to the Origin Edition. On top of that Blizzard will have a free weekend from 25 – 29 May to allow any newcomers to give the game a – try – with all content available! – for nothing more than the cost of downloading it.
Last Updated: May 16, 2018