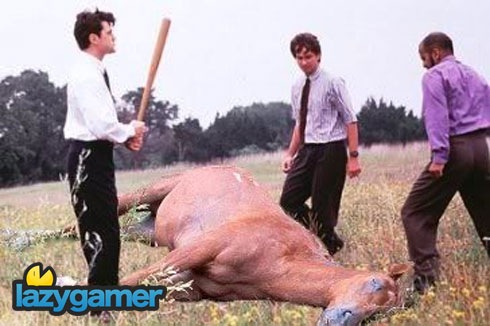 Michael Pachter just can't seem to shut up about publishers beginning to charge more for multiplayer, utilising a subscription model not unlike those seen in MMO's.
He believes it's inevitable, especially considering – as he believes – that the current decline in videogame sales can be pinpointed to one thing : Online multiplayer.
"We still believe that the biggest driver of the sales declines over the last 18 months is online multiplayer functionality, with an estimated 25m people playing many titles for hours on end," Pachter told investors.
Heavy hitting multiplayer games like Halo, Modern Warfare, Street Fighter and the like keep people playing the same game for months on end. "Based upon statements made by Microsoft earlier this year, it appears that millions of people are playing multiplayer games online for an average of 10 hours a week, making a serious dent in the time available to play other games," said Pachter.
Right now, barring Xbox Live's annual gold subscription fee, that functionality is free; but it's something that has to change. "We remain convinced that the popularity of online multiplayer gaming has caused a decline in overall packaged product sales, and we expect this decline to persist unless the publishers change the multiplayer model. This can, of course, take many forms, including doing nothing, adding premium services for a fee, or limiting the quantity of multiplayer content that is provided for free."
"While we expect the publishers to continue to offer free multiplayer content that is similar in quality to what is offered today; we expect the publishers to channel their efforts on improvements to multiplayer by offering a premium subscription service, in the hopes of driving an ever- increasing number of customers to a pay service."
He is, to an extent, right. I know a lot of people who'll only shell out money for games featuring extensive multiplayer – who'll buy a single game and play it for what seems an eternity. I just hope he's not right when it comes to paying extra for multiplayer, or that the tacking of multiplayer on to everything doesn't come at a detriment to the gaming industry as a whole. I like single player game, and while I appreciate multiplayer elements, I'm not certain I'm willing to fork out extra for them.
It does however, seem Ironic that the feature – multiplayer – that publishers insisted got added to games to sell more copies is the feature that's now causing them to sell fewer games.
Source : MCVUK
Last Updated: September 8, 2010