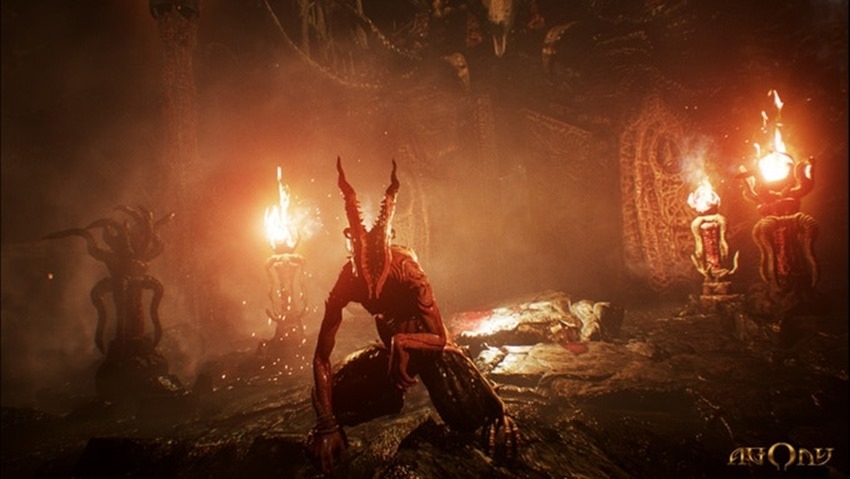 Are video games violent? Well, yes. Yes they are, if you look at certain games. I mean, imagine Mortal Kombat without someone have their spine rearranged in a manner that makes your chosen brawler almost as dangerous as one of the greatest hoaxes of the 21st century, a chiropractor. It would be unreal. There's a fine line though, between games which are ordinarily violent and games which dial the gore up to 11.
Horror game Agony is just one such game, a hellish journey into pain and suffering that was too violent even for console in its original form. Due out on March 30 originally, that release date slipped as developer Madmind Studio began work on toning down all of its gory content or risk having their title slapped with a strict Adult Only rating in the process, which would have cancelled out any console release dreams.
While the console version will be slightly neutered, it's a different story on PC. "In order to be able to publish the game, we had to make some compromises," Madmind wrote on their Kickstarter page.
AO rating means that the game could not be released on PS4 and Xbox One, and we would not keep the promise made on the Kickstarter. We also want to confirm that we are preparing a special, optional patch for PC that will remove the aforementioned "censorship". We would love to do something similar for consoles but from a technical and legal point of view it is simply not possible. 
So all the guts, gore and imaginative hell-porn that your masochistic mind can stomach, preserved on PC. Madmind explained that any Kickstarter backer who wants to make the switch from their platform to PC, will be able to do so. I'd post some pictures here of what Agony looks like, but I like you guys and I don't want to see you all fired when your boss catches you looking at half-naked mutilated demons making out while prisoners of hell are receiving metal rod colonics.
Let's just say that so far, Agony looks like the bastard child of Dead Space and the deleted scenes section of Event Horizon. If that's your cup of tea, then you're in for a hell of a good time.
Last Updated: April 16, 2018